If you are looking for a classic tasting vanilla buttercream frosting recipe that is as easy to make as it is delicious, you've arrived at the right recipe.
Jump to Recipe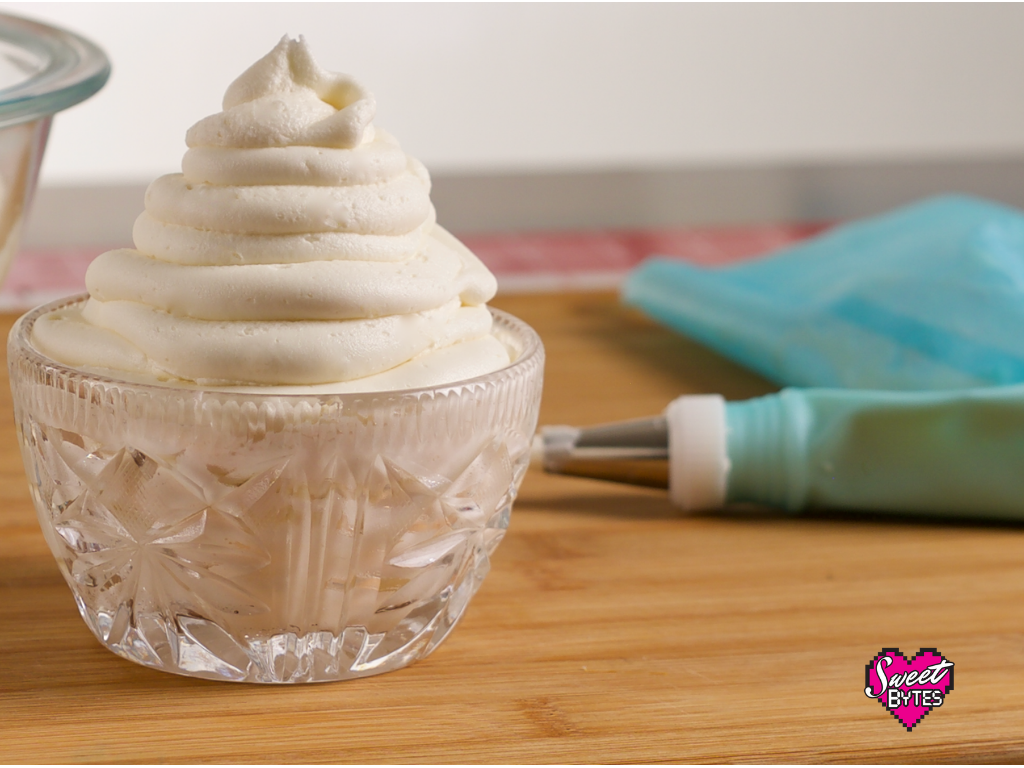 I get commissions for purchases made through links in this post.
I've had so many people ask me for the recipe for this vanilla buttercream, but I've never shared it… until NOW! This is the very same American buttercream recipe that I used in the bakery for years.
I'm even sharing the "secret" ingredient. You won't believe how simple it is!
What's amazing is that that this simple vanilla buttercream recipe has such a great taste with so few ingredients! In fact, it only has 4 ingredients. (5 if you use the "secret" ingredient.)
Maybe that's why it's so ridiculously good.
If you need a cake recipe to go with this amazing buttercream, try it with this super easy and delicious Chocolate Cake Recipe.
What ingredients are needed for the vanilla buttercream recipe?
Unsalted butter
Powdered sugar
Vanilla extract
Heavy cream
That's it! Can you believe that you can make an amazing vanilla buttercream with only those 4 ingredients?
Oh and the "secret" ingredient is… salted butter.
I feel like I led you on, but really that's it. That's why Sweet Bytes Vanilla Buttercream tastes so good. I use 1/4 salted butter vs. all unsalted or adding salt to the recipe.
What equipment and tools are needed to make vanilla buttercream?
A mixer
Large mixing bowl or the bowl of your stand mixer
Measuring Cups for dry ingredients or a kitchen scale
Measuring Spoons
A sifter or sieve for the powdered sugar
Spatula for scraping bowl and incorporating ingredients
Why is it called an American vanilla buttercream recipe?
American buttercream is also called basic buttercream, simple buttercream, and sugary frosting.
It is it very simple to make, sweeter in taste, and heavier in texture than any of the European buttercreams. In America, this is the type of frosting we consider bakery style.
Only upscale bakeries and wedding cake specialist usually serve alternatives to American buttercream.
Over in the article Everything You Need to Know About These Types of Frosting, I deep dive into many of the different types of frosting and their qualities.
How to make vanilla buttercream
First, you'll need to mise en place your ingredients. For this vanilla buttercream, the only thing to do is set out the butter and allow it to come to room temperature, this is called softening your butter.
Then, make sure you have the other ingredients and equipment ready.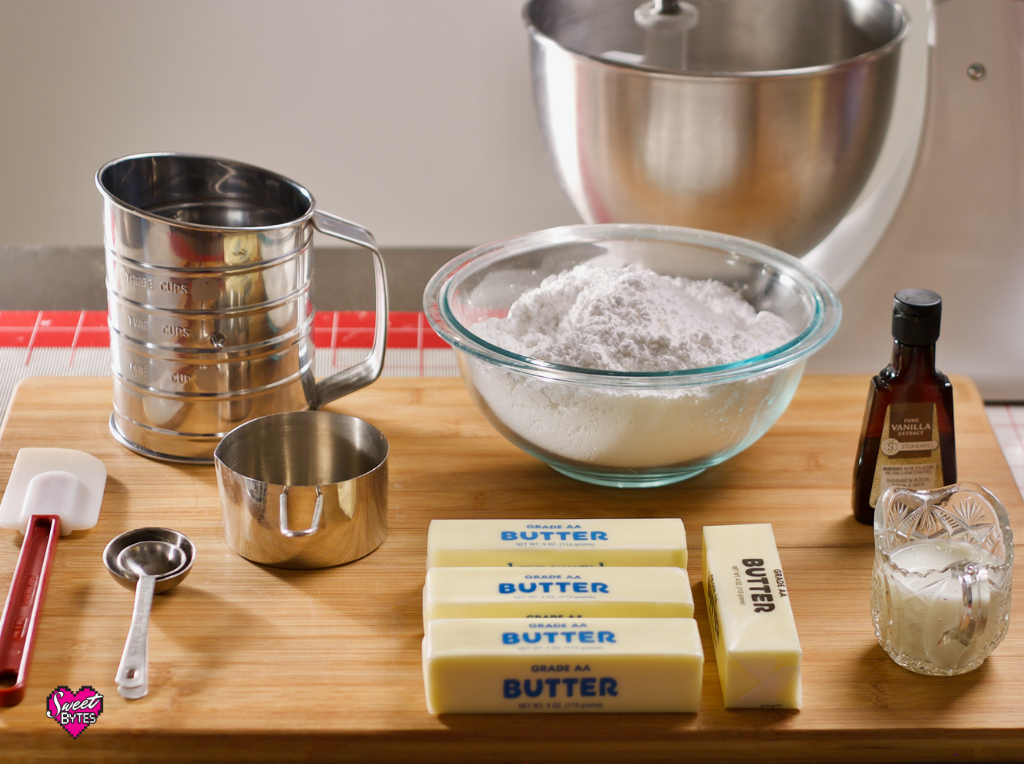 Mix your butter on high for 8 minutes
In addition to the secret salted butter, the secret 8-minute mixing of the butter is one of the methods that I think make the vanilla buttercream frosting recipe so successful.
Don't skip it.
Place your softened butter in your large mixing bowl or stand mixer bowl and mix the butter on high speed for 8 minutes. Use the paddle attachment, not the whisk.
Side note: The whisk attachment will make the butter extra, extra fluffy, but all of the extra air that you whip into the butter causes air pockets in your frosting when you start decorating. As a general rule, air pockets and cake decorating don't mix.
As the butter mixes for 8 minutes, you will see it transform into lighter, silkier, fluffier, magical frosting butter versus the yellow stick it started as.
Sift or sieve your powdered sugar
Sift or sieve your powdered sugar. Powdered sugar is very clumpy. You don't want clumps in your vanilla buttercream. Smooth and creamy buttercream is what we are aiming for.
Sifting also helps the butter and powdered sugar incorporate better, making a better buttercream frosting.
I like to do this right into the bowl while weighing it so I don't have to mess with measuring cups, but you can also sift your powdered sugar into a separate bowl and then measure it.
Add the vanilla buttercream ingredients to the butter
Add your powdered sugar, vanilla, and milk to the butter and use the spatula to mix the ingredients all together BEFORE you turn on the mixer.
This one step will save you a cloud of powdered sugar exploding all over the kitchen and a fine powder sugar dust settling all over everything within a 10 ft. blast range. Just turn over that butter and mix it all into the powdered sugar until you get it looking less powdery.
Start the mixer on low and work your way up to a high speed for 2-3 minutes.
Thin frosting to desired consistency
This frosting makes a stiff-medium consistency frosting. I really prefer working with this consistency of frosting because it holds up well for a variety of uses.
You can add more milk or liquid of your choice to thin the vanilla buttercream for easier piping, writing, or spreading around the outside of a delicate cake. Add the liquid 1 tablespoon at a time and check for consistency in between each addition.
If you go too liquidy, you can add more powdered sugar to stiffen it again, but it will make the frosting sweeter.
Here's a great little video from Wilton on frosting consistency and its uses.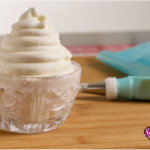 Vanilla Buttercream Recipe
This vanilla buttercream recipe is made with simple ingredients and has an amazing classic vanilla flavor. It performs well for cupcakes, cakes, piping and under fondant.
Ingredients
1 1/2

Cups

Unsalted butter, softened

(340 grams)

1/2

Cup

Salted butter

(113 grams)

7

Cups

Powdered sugar/ confectioner's sugar, sifted

(745 grams)

1

Tablespoon

Vanilla extract

(15 mL)

2

teaspoons

Heavy cream or milk

(10 mL)
Instructions
In a large mixing bowl or bowl of a stand mixer, beat softened butter on high speed for 8 minutes. Scraping bowl as needed.

Add sifted powdered sugar, vanilla, and cream to butter. Use a spatula to hand stir ingredients together before turning on the mixer.

After powdered sugar is incorporated into butter, mix on low speed for approximately 30 seconds, gradually moving up to high speed for 1 minute.

Turn off mixer, scrape the mixer bowl with a spatula. Be sure to get the very bottom, sides of bowl and beater blades.

Mix frosting again on high for 1 more minute until light and fluffy.

Add more cream, 1 Tablespoon at a time, if needed for a thinner consistency frosting.
Recipe Notes
This is the amount I use for a 3 layer, 6″ decorated cake.  Store vanilla buttercream in an airtight container up to 3 days at room temperature, keep in the refrigerator for up to 2 weeks, freeze for up to 3 months. Adapted from Classic American Buttercream by Savory Sweet Life. 
Frequently asked questions about vanilla buttercream
Can I make vanilla buttercream without powdered sugar? Not this recipe, this is an American buttercream recipe, it depends on powdered sugar for its texture and flavor. You will need to use a Swiss meringue buttercream recipe or another type of heated frosting that dissolves granulated sugar.
Can I use this vanilla buttercream on cupcakes? Yes, you can use it on anything you would like. It's even pretty darn good with a spoon.
How to color buttercream? The best way to color buttercream with the AmeriColor Soft Gel Paste Colors or other professional grade food colors. These are made to add color without altering the flavor or consistency of the frosting.
How to make vanilla buttercream white? If you need pure white frosting, you can some white gel color in the buttercream as you make it and/ or you can substitute some or all of the butter with shortening, but I don't advocate that.
Can you make this into chocolate buttercream by adding cocoa? Not exactly, you will need to change the liquid and powdered sugar. I suggest using my chocolate frosting recipe instead.
Can I make this vanilla buttercream without milk or cream? Yes, you can actually use plain water or any other liquid of your choice, the amounts won't change.
Questions or comments?
Did I leave you with more questions? If so, drop me a line and I'll get back with you as soon as I can! You can also leave a comment below, I'd love to hear from you.
Please stay in touch, sign up for Delicious News and I'll send you all of the important news I have right to your inbox!