Hello, thanks for stopping by! I am so happy that you are here and I hope you'll find something useful to you on your baking and decorating journey. Baking is such a fun and useful hobby that I really want everyone who wants to learn how to have access to all the information they need.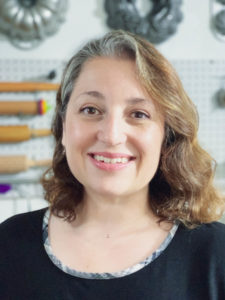 I'm Mikel, a former public art school teacher, artist, and "Deliciousness Maker." I started calling myself that back when I started Sweet Bytes because I was uncomfortable claiming the title of "baker." After I printed Deliciousness Maker on my business cards, it stuck! 
The more I baked and decorated, the better I got. Eventually I became a Certified Wilton Method Instructor and taught Wilton Method Cake Decorating Classes, and now I teach decorating and baking courses as an adjunct instructor at a local vocational-tech school.
My baking practice is all from scratch, using real food ingredients, and making it look as amazing as it tastes. My home bakery tagline was "Tastes Like Happy" and that's still my goal for every recipe I make and dessert share.
Thanks for visiting! Let's keep in touch!
I hope I can share with you all the things I've learned in my baking, decorating and art making adventures so that you feel confident enough to give yourself a baking title too!
Sign up for our newsletter and have the most delicious Sweet Bytes news sent right to your inbox. Comment on any of my posts any time and please drop me an email. I'd love to hear from you and I will get back to you as soon as humanly possible.
Most Sincerely,
Mikel Ibarra, Deliciousness Maker