I love this chocolate cake frosting! I mean I REALLY LOVE this chocolate frosting. We have been living happily ever after for the past 4 years and I haven't even batted my eye at another chocolate buttercream recipe.
Jump to Recipe
I promise, it's that good, and it pairs perfectly with my chocolate cake recipe.
This post contains affiliate links, I earn from qualifying purchases.
One great thing about it is that it's not cloyingly sweet. In fact, it has a rich fudgy flavor (even if you use plain grocery store cocoa.) If you use dark cocoa, it's even fudgier!
I have used this frosting recipe for Sweet Bytes professionally and for home baking and it has never failed to please and get lots of compliments. Truly, it's perfect every time.
This recipe was inspired by the chocolate buttercream recipe in The Brown Betty Cookbook: Modern Vintage Desserts and Stories from Philadelphia's Best Bakery
, which is FILLED with amazing recipes and beautiful stories about their friends and family. This is one I return to time and time again.

Is this a chocolate buttercream recipe?
I shied away from calling it a chocolate buttercream recipe, only because I get weird about definitions. It's really a hybrid of cream cheese frosting and a simple buttercream AKA American buttercream. Yet, I don't think it qualifies as a chocolate cream cheese frosting because you can't even taste the cream cheese.
If you are a frosting geek, like me, you can read more about the different types of frosting here.
In my opinion, it behaves far more like a buttercream than a cream cheese frosting.
It crusts (dries to the touch, which is important to some cake decorators)
Pipes beautifully
Holds its shape under normal room temperature conditions
Great for filling, covering a cake, and decorations
The cream cheese makes it extra special. L-O-V-E in frosting form special. Me + chocolate cake frosting sitting in a tree, E-A-T-I-N-G.
There is just enough cream cheese to give the frosting body and creaminess, but it's not tangy like typical cream cheese frosting.
What type of cocoa makes the best chocolate cake frosting?
I use grocery store cocoa 90% of the time, but I know sometimes expensive cocoa is necessary to satisfy the inner foodie.
I know, I know… you're among friends. Really though, the dark chocolate cocoa and the different types of cocoa available really add a special quality to the frosting.
You can use any type of cocoa you'd like and it will be amazing! However, the type of cocoa you use will change the flavor just like a dark chocolate bar tastes different from a milk chocolate bar.
My advice is to try it with your favorite typical grocery store brand and then get fancy next time (when you're ready to commit to the relationship.)
What ingredients are needed to make chocolate frosting?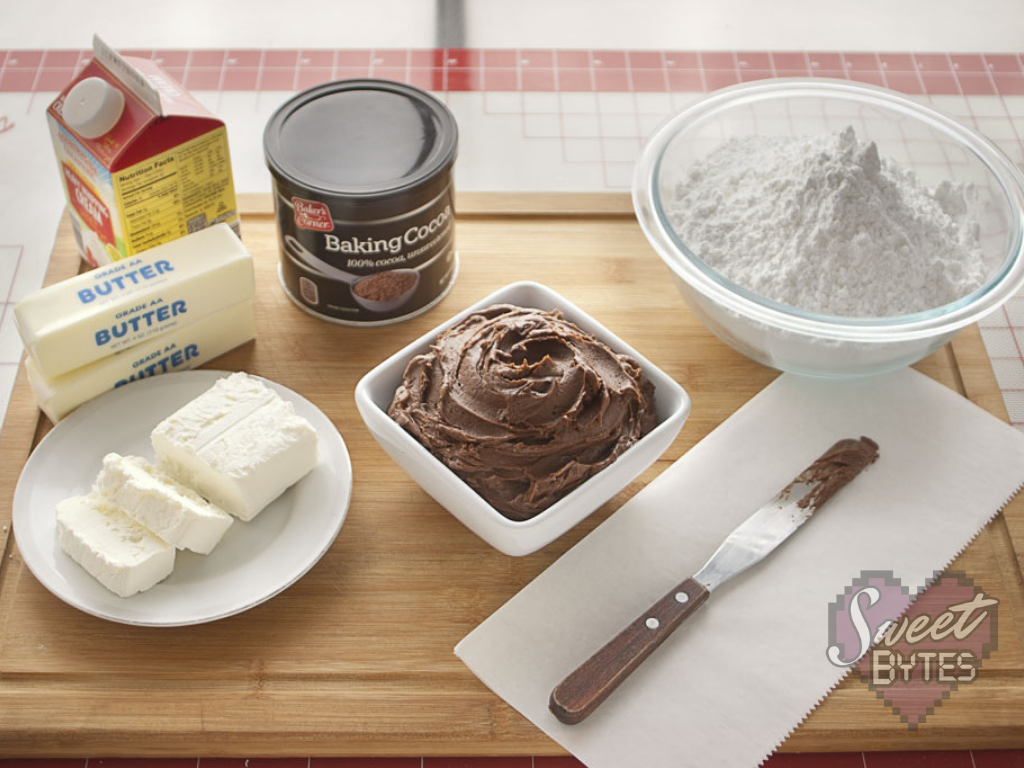 I used Aldi brand cocoa in the photo above, I really like it and find that it has a nice rich flavor. The price is nice too, without one bit of quality loss. If you can count on anything at Aldi, it's chocolate.
This recipe does have more ingredients than some other chocolate buttercream recipes out there, but it's because it has more deliciousness than the others.
Here are the ingredients:
Unsalted butter
Cream cheese
Vanilla extract
Unsweetened cocoa powder
Light corn syrup
Powdered sugar
Heavy cream (milk will also work)
I accidentally left out the corn syrup when I took the ingredients photo. Sorry! I'll update it next time I make a chocolate cake! Any excuse to bake a cake, right?
What tools and equipment are needed to make the chocolate frosting?
You'll need some basic baking tools and equipment to make the frosting.
A mixer or Stand Mixer
Large mixing bowl if you are using a hand mixer
Measuring Cups
Measuring Spoons
Flour Sifter or sieve for the powdered sugar
Spatula
How to make the chocolate cake frosting
You'll need to get your unsalted butter and cream cheese to room temperature. If you've never softened butter, here's my in-depth explanation, be sure it's just right for the perfect chocolate frosting.
Mix your butter on high for 8 minutes
The mixing method in the recipe will help you to get the creamiest and fluffiest chocolate frosting. Don't skip beating the butter for a full 8 minutes before you add the cream cheese and vanilla.
Sift or sieve your powdered sugar
To get the best chocolate cake frosting, you need to sift the powdered sugar. It's clumpy and you don't want your frosting to be clumpy. You may even need to sift your cocoa if it's looking clumpy too.
Sifting helps the ingredients mix nicely with the butter and reduces imperfections in your decorating. It's worth the extra effort.
Add your other ingredients in order
Pay careful attention to the order of adding the ingredients and be sure to scrape the sides and bottom of your bowl with a spatula often. You wouldn't want to find out half your butter was still at the bottom of the bowl when you've finished!
Thin frosting to desired consistency
This recipe will make a fairly stiff consistency frosting. This is great for filling and piping. Yet, it may be hard to spread on a delicate cake.
If you need it to be thinner so that it will spread easily, add more cream or milk, one tablespoon at a time.
Be careful not to get too thin or it will run right off of your cake. Here is an excellent explanation video from Wilton about buttercream icing consistency if that concept is new to you.
It's a tightrope walk between perfect consistency and too runny. The temperature of the frosting can change the consistency too. So, if you are adding more liquid to the recipe, go slowly and chec- in between each addition.
If you go too runny, you can add more powdered sugar to thicken it again, but it will change the sweetness.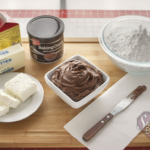 Chocolate Cake Frosting
This is my go-to chocolate cake frosting. It holds up for professional and home use and is such an easy chocolate frosting recipe. I love it with chocolate cake! I hope you'll love it as much as I do.
Ingredients
Chocolate Cake Frosting Ingredients
1/2

cup

Unsalted butter, softened

3

ounces

Cream cheese, room temperature

2

teaspoons

Vanilla extract

1/2

cup

Cocoa powder

2

teaspoons

Light corn syrup or golden syrup

3

cups

Sifted powdered sugar/ confectioners sugar

2-3

Tablespoons

Heavy whipping cream
Instructions
Using the paddle attachment on your stand mixer or regular beaters on your hand mixer, beat butter on high speed until it is light and creamy, approximately 8 minutes. (Yes, a long time.)

Add cream cheese and vanilla, beat until cream cheese is well blended and smooth.

Turn off mixer and scrape the sides and bottom of the bowl, making sure there are no lumps of cream cheese.

Add in cocoa powder and corn syrup. Use your spatula to incorporate the cocoa powder into the butter mixture before turning on your mixer. It will prevent the cocoa cloud. Mix on high until well blended, scraping bowl as necessary.

Add sifted powdered sugar 1 cup at a time, using the spatula to incorporate each cup before turning on the mixer. Beat on high until incorporated.

Add heavy cream 1 Tablespoon, at a time until frosting reaches your desired consistency.

Scrape the sides and bottom of the bowl one final time and beat on high for about 30 more seconds.

Keep unused frosting covered with plastic wrap or in an airtight container, as it crusts when exposed to air.
Recipe Notes
You can scale this recipe to make more or less as you please. Store leftovers in an airtight container in the refrigerator for up to 2 weeks or in the freezer for 3 months. 
This makes a thick consistency frosting, add more milk or cream 1 T at a time if you would like it thinner.
Frequently asked questions about chocolate cake frosting
Can I use regular sugar? No. You have to use powdered sugar. If you don't have any, sorry, this won't work for you.
Will this recipe work on brownies? Yes, and any other dessert for which you need chocolate frosting.
Does this frosting need to be refrigerated? It can stay out for a normal serving time and should be served at room temperature (4 hours-ish,) but longer than that and it should be stored in the refrigerator.
Will this recipe work with flavors other than vanilla extract? Yes! Please experiment to your heart's content. The amount of liquid added will change the consistency though, so be mindful of that if adding something like a liqueur.
Can I leave out the cocoa powder and make vanilla buttercream? Not exactly, you will need to adjust the other ingredients too. If you need vanilla buttercream, please check out my recipe for amazing vanilla buttercream.
Questions or comments?
Did I leave you with more questions? If so, drop me a line and I'll get back to you as soon as I can! You can also leave a comment below, I'd love to hear from you.
Please stay in touch, sign up for Delicious News and I'll send you all of the important news I have right to your inbox!