Macarons have taken over the world of baking! At least the social media world has been trending these little French desserts for much longer than I ever thought possible.
If you haven't followed the trend, you should see how cute they can be. Macarons can be colored any color you can imagine, they can be piped into adorable shapes, filled with delectable ingredients, and just down right delicious. Seriously, they aren't like any other dessert. Indeed, if you haven't tried one yet, don't delay, they really are good!
This post contains affiliate links, I earn from purchases made through some of the links here.
Finally succumbing to instagram macaron peer pressure, I decided that I would just spend an afternoon making them and see what they fuss was all about. HA!
Needless to say, it didn't go as planned, but this is what I learned along the way.
Learning to Make Macarons Isn't Easy
As a late adopter of the craze, I went in cocky, thinking, "I make pies and everyone thinks those are hard… I bet French Macarons are easy and everyone is exaggerating!" I'll just watch some YouTubes and figure it out.
(Cue the reel where I am brutally humbled in the kitchen. This happens EVERY TIME I get over confident.)
I did NOT figure it out. My macarons had no feet, they were flat, the batter ran out of the piping bag… the list of my failures was long.
Sadly, since I was getting all of my information on YouTube and blogs about "How to Make Macarons" I couldn't find clear help. I'm an experienced baker…. with lots of bloggy resources. Many reliable sources, et cetra.
Maybe I'm not alone here, or maybe I am and just have serious problems, but when I can't figure something out, I get really depressed and feel like I have failed on some personal level. No idea why I'm like that, but I use it for fuel to keep going. I'm an experienced baker…. with lots of bloggy resources. Many reliable sources, et. cetera. I felt like if this could be figured out, surely I could watch some tutorials and handle it.
So, I turned to the forums and saw that a lot of people were recommending classes on Udemy and Craftsy. As a huge Craftsy fan and member of Craftsy Gold, it was a face-palm moment to realize that I didn't look through their courses first!
Let Go and Let a Professional Macaron Maker Help
Realizing I would need more than anecdotal help, I decided to enroll in an online course! An online course taught by a seasoned professional, at that. The course I chose is taught by Colette Christian, and I am certain that I would have had to spend a fortune to have the pleasure of being taught by Chef Christian in person, but through Craftsy, she was part of the subscription! Join Craftsy to watch more than 1,500 classes led by industry professionals
With Craftsy, you also have the choice of purchasing courses if you don't care to purchase a membership. I have many classes that I've bought over the years and I refer back to them often.
The Benefits of Taking a Course vs. DIY Learning
OK, admittedly, I'm biased towards teachers. I taught art for 17 years and also teach cake decorating classes locally.
However, in this case, I sincerely tried to learn via YouTube and blog. I went to the best I "knew," AKA, influencers who make pretty macarons. Many of these people, also sell their own courses. I am quite sure if I had persevered through several more tries, I would have figured it out.
Yet, the ingredients to make fancy French desserts are expensive! My time is valuable, and I was convinced that it wasn't ME who was unable to learn, it was them not conveying something important! (LOL- there's that cockiness again!)
My point is that going through an online platform, like Craftsy, they vet their instructors and usually get top of the line professionals that we would have to travel long distances and pay large sums to sit in the same room and learn what they are teaching.
They have a system of checks and balances to ensure the course is quality. Plus, they have great production! Camera professionals, audio professionals, editing professionals, all the things that make it easy to focus on the content!
ANY ONE can make a course and sell it online. ANY. ONE. Which is why I look at the person's website and socials and teaching style before jumping to pay for courses.
(Please don't think I'm saying all online classes aren't good- there are a ton of amazing teachers out there. I've just bought my share of SERIOUS CRAP online classes and there's really nothing I can do about it other than live to tell the tale.)
So do your research before you open your wallet. Rant over.
Miniature French Desserts (and French Macarons)
The course I took is called Miniature French Desserts, Macarons and More. Here are a few very valuable things I learned that I didn't get right when trying on my own:
How to prepare all of my ingredients for success and a very great way to avoid sifting ANY times!
How to make perfect French meringue
Making the perfect macaronage and what it should look like in a very detailed demonstration (plus a handy dandy air removing trick for picture perfect macarons)
What they should look like before they go into the oven and when they should come out
How to troubleshoot problems and PREVENT having any problems.
In addition, the course covers madelines, tartlets, opera cake, AND fillings for all of them. It's worth every single penny. Oh yeah, there are even templates and recipes included. I'm telling you, the instructor is SO experienced, she answers every question before you even need to ask it!
Here is one more shot of my pretty pink (FIRST TIME) macarons for proof!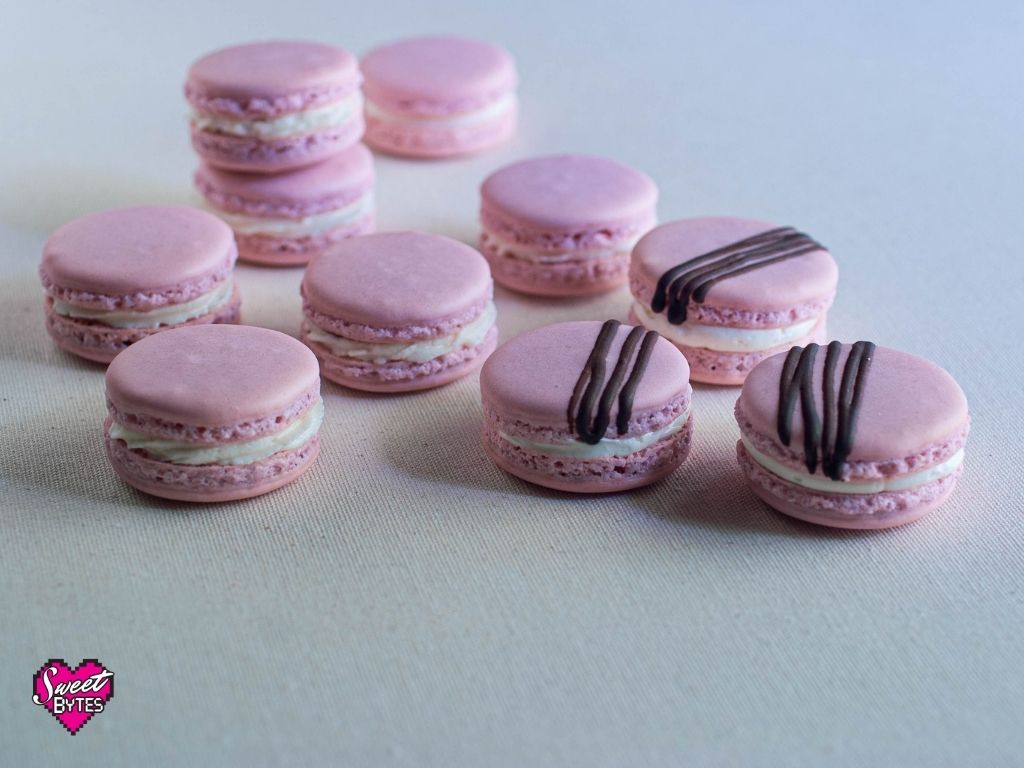 Special Supplies Needed to Make Macarons
After taking the course, I can highly recommend that you get these supplies before you start:
A great electric mixer, a stand mixer will be your best choice. I wouldn't even try this without one.
Good Baking Sheets
A heavy duty spatula
Silicon Macaron Mat
Piping Bags
Piping Tips
I know it seems like a lot of stuff, the great news is that if you are a dedicated baker, these things can be used for multiple things and will last a very, very long time. Plus, once you master macarons, you will be making them A LOT!
Two more things before I go
I used Bob's Red Mill Super-Fine Almond Flour. I saw it highly recommended in several of the articles and YouTubes I watched and I was absolutely NOT disappointed
I did not age my egg whites.
For some reason, those two things seem to be the most controversial about macarons.
Question or comments?
If you have any questions about Craftsy, macarons, or just want to say hi, leave a comment or drop me a line!