If you've never made your own whipped cream before, I am SO excited for you to learn! This recipe is so easy. I swear you'll be putting whipped cream on everything. The big bonus with this recipe is that it won't deflate on top of your beautiful desserts because it's a stabilized whipped cream!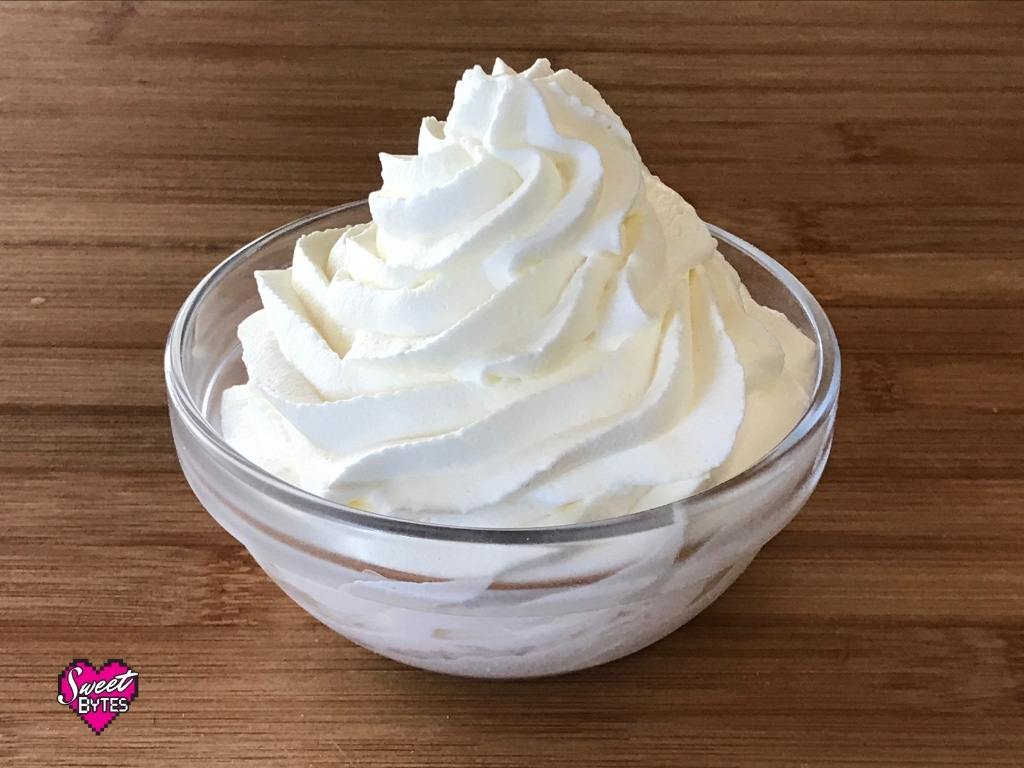 This post contains affiliate links, I earn from qualifying purchases.
This recipe is a staple in our house. It levels up every dessert and makes it seem like something fancy.
Dessert should be fancy right?
Not only is it a little bit fancy, but it also tastes AMAZING! (You don't even have to tell how easy it is, just let people think you are a magician in the kitchen!)
This whipped cream recipe will not let you down!
Besides tasting like HAPPY, this recipe is called a "stabilized whipped cream recipe" because it will hold its shape for days and days without losing form!
Stabilized whipped cream was mandatory in the Sweet Bytes bakery because nothing is sadder than soggy whipped cream… or the people you serve it to…
However, I used to use gelatin to make my whipped cream stable. Doing that involved liquifying gelatin and adding it to the thickening whipped cream without having the gelatin turn into gelatinous clumps in the whipped cream. There was a real art to it.
So when I learned about this simple way to make it stabilized, I had to try it!
I even ran a very scientific experiment, just to make sure this whipped cream could stand up to "tastes like happy" while still looking pretty.
This recipe made mama proud. Just look at these pics! 5 days, uncovered in the refrigerator and it still looked amazing! (Full disclosure, when it's stored in an airtight container for later use, I have to fluff it up again with the mixer before piping.)
Are you sold on trying this homemade whipped cream recipe yet? Let's get to it!
What equipment and tools do I need to make whipped cream?
Mixer or stand mixer
Large, chilled mixing bowl or stand mixer bowl
Measuring cups
Measuring spoons
What ingredients do I need to make my own whipped cream at home?
Heavy cream or whipping cream
Powdered sugar
Nonfat milk powder
Vanilla
Why use milk powder in whipped cream?
I don't want to make up a reason. Truthfully, I'm not sure why this works. I knew why the gelatin worked. It was made to hold the shape and is used in mousse recipes and many dishes to hold a shape and mold. This, however, is not so clear.
The best answer that I have found is that it adds protein to the mixture, which supports the cream when it is whipped. If you know an answer, please, I'd love to know in the comments below.
If you are wondering where to get it, it's just sold at the grocery store. It's called Powdered Milk
or instant milk and comes in a box or bag. Usually, I find it near the baking ingredients and other canned milk. It doesn't matter if it's nonfat or full fat. It looks like this –
or
What's the difference between heavy cream and whipping cream?
According to The Joy of Baking, heavy cream has more fat than whipping cream. Heavy cream is 36% – 40% fat and whipping cream is 30% fat. You can also use Double cream, which is 48% fat, but I rarely see that in the grocery stores in Oklahoma City.
The heavy cream will perform the best, so get that if you can. I really like Aldi's brand, even compared to some major name brands such as Land O'Lakes. Whole Foods 365 brand is also great.
I just looked at my carton in the fridge, and Aldi's is called "heavy whipping cream."
What tastes good with homemade whipped cream on top?
My brain is yelling, "Everything!", even though I know that's not quite true. Definitely, a spoon tastes good with whipped cream on top. Ice cream sundaes, almost any type of pie or cake.
Here are 3 of my very favorite pie recipes with whipped cream:
and the mother of all pies that go with whipped cream…..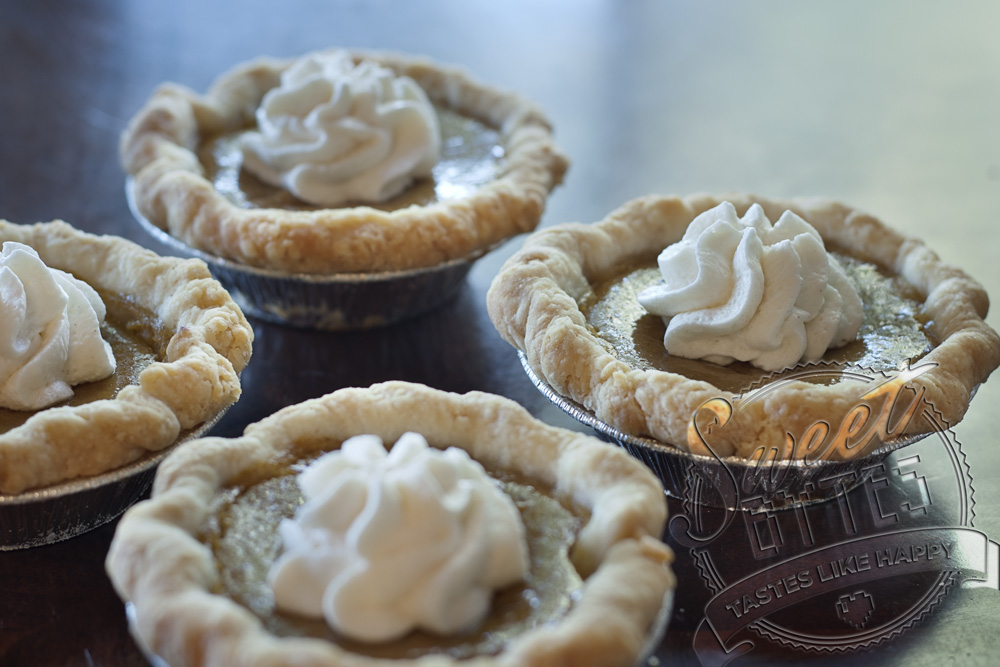 How to make whipped cream at home
To make your own homemade whipped cream, assemble all of your equipment and ingredients, make sure you are ready.
Next, all you have to do is pour the heavy whipping cream into your large mixing bowl, add the powdered sugar, powdered milk, and vanilla.
With the whisk attachment fitted to your mixer, turn the mixer on low. Run it on low for about 30 seconds to incorporate all the ingredients without making a mess. Slowly bring your mixer up to medium-high speed.
I don't put the mixer all the way on high when I am making whipped cream. One of my little secrets is that the whipped cream is "creamier" when I mix it to completion at a lower speed.
Plus, if you mix whipped cream too long, you end up with butter. Yeah, regular old butter.
If you end up with butter, some people say you can add more cream and bring it back, but I haven't ever been happy with the results… believe me I have tried…. cried.. and had to go buy more cream many times.
So, don't go anywhere, just watch the magic happening. When you see ripples in the bowl and the whipped cream thickening, turn off the mixer and give the bowl a good scraping. Then resume mixing.
Keep mixing just until the whipped cream looks like it is thick enough to stay on a spoon. Turn off the mixer and scrape the bowl one more time. The whipped cream at the bottom of the bowl is always a little too soft if I stop here, so I give it a stir and mix again for just about 10 -20 seconds.
Keep going until the cream will hold a soft peak. Beautiful.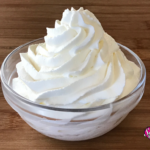 Whipped Cream
It's so easy to make your own whipped cream at home. This stabilized whipped cream recipe will last for days without losing its shape and it tastes amazing!
Ingredients
Equipment and tools needed
Large chilled mixing bowl and mixer attachments

Hand mixer or stand mixer

Measuring cups

Measuring Spoons

Spatula
Whipped Cream Ingredients
1

Cup

Heavy cream

(240 mL)

1/4

Cup

Powdered sugar/ confectioners sugar

(25 grams)

2

teaspoon

Nonfat instant milk powder

(1.45 grams)

1

teaspoon

Vanilla extract (optional)

(5 mL)
Instructions
Chill mixing bowl and attachments in the freezer for 10 minutes before beginning. Cold whipped cream is happy whipped cream.

Pour heavy cream into a large mixing bowl, add powdered sugar, milk powder, and vanilla extract

Using the whisk attachment on a stand mixer or hand mixer, mix ingredients on low for 30 seconds to incorporate. Slowly turn the mixer up to medium-high speed.

Continue to mix until the cream begins to thicken and ripples are visible in the mixture. Turn the mixer off, scrape the bowl with a spatula, mix again on medium-high until whipped cream begins to look complete.

Turn off the mixer and scrape the bowl again. If the whipped cream in the bottom of the bowl looks more liquid than the whipped cream on top, give it all a good stir and mix again for 10-20 seconds.

Whipped cream is done when it holds its shape without slumping over or sagging. You should be able to slice through the middle of it without it closing back together.
Recipe Notes
Makes 2 cups of whipped cream, the recipe can be doubled as needed to make more. 
Store whipped cream in an airtight container in the refrigerator until needed. Stir before serving. You can also pipe the whipped cream onto your desserts for an extra special look.  
Frequently asked questions about homemade whipped cream
What if I over mix? You can usually fix it by pouring in a little more cream and mixing on low for just a few more seconds.
Can I make this recipe without the milk powder? Yes, but it won't be stabilized. It will hold its shape through dessert and taste amazing, but it won't last for days as my experiment pictures did.
Can I use almond, coconut, soy, etc. milk? Not for this recipe. There are many other sites out there that have amazing non-dairy whipped cream recipes.
Can I freeze my leftover whipped cream? Yes! You can pipe it onto a cookie sheet and pop it in the freezer until the whipped cream is frozen then store it in a freezer bag or airtight container.
Can I use regular sugar? I have heard of people doing it, but I haven't been happy with the results. I always use powdered sugar.
Can I use flavorings other than vanilla? Yes! You can use any flavoring, but you probably won't need a full teaspoon. Start with 1/4 teaspoon and taste your way to the amount you need. It's much easier to add more extract than to correct too much. 1/4 cup of added cocoa powder makes it divine!
Can I color this whipped cream? Yes, you can use food coloring to change the color of the whipped cream for a fun dessert topping. I recommend AmeriColor Soft Gel Paste Colors
Questions?
What's your favorite thing to cover in whipped cream? (FOODwise … good golly.)
I tried to cover everything, but if you have questions about making your own whipped cream, please send me an email and I'll do my best to find you an answer!
I'd really love to stay in touch! Sign up for the newsletter and I'll send you all the best news and updates from Sweet Bytes on Wednesdays, but only when I have good news to share!