Starting your own home bakery in Oklahoma is a great way to earn extra income and an easy way to start your journey as an entrepreneur!

I will keep you current on the most recent State laws and all of the regulations for running your own home baking business in Oklahoma.
Also, I can update this article regularly to keep you informed of any changes. You might consider subscribing to my newsletter so you don't miss any updates! (I promise not to spam you with emails- lol!)
Current Home Bakery Rules in Oklahoma
You might have heard that there has been a great new change to the Oklahoma Home Bakery Act of 2017, but let me caution you that the changes will not take effect until November 1, 2021. Until then, you will need to follow the current law.
The last thing you want is to get in trouble with Oklahoma before the new Home Food Freedom Act of 2021 takes effect!
Currently there are some simple rules you must follow:
Do not make over $20,000 in gross sales. That means sales without deducting your costs or any business expenses.

Label all items with your business name and address, the name of the product, and the statement: "Made in a home food establishment that is not licensed by the State Department of Health" in at least a 10-point font and in a color that provides clear contrast to the back-ground of the label.

You CANNOT sell anything that is not a traditional baked good. For example, no dipped strawberries, canned goods, dog treats, or cannabis brownies, or home roasted coffee beans.

No fresh fruit or meat is allowed. There is no wiggle room, even garnishes count in the "fresh fruit."

There are limits where you can sell your items: from your home, personal delivery, at a farmer's market, a food co-op, or a membership club (like a monthly basket type deal.)

No shipping, the intention is that you will be there to represent your food and be responsible for it when it is sold.
One more thing, pay taxes on any income you receive! Do not fail to pay your taxes, that where the real trouble could happen.
You can read the bill here : Oklahoma Home Bakery Act
New Oklahoma Home Food Freedom Act of 2021
This is big, my friends! This made me do an actual happy dance.
Now remember, this doesn't take effect until November 1, 2021. However, if you start now you'll
be ready to go on opening day!
Here are the big changes:
There is a new bill number to go with the new name: Oklahoma HB 1032/ Home Food Freedom Act.

The income cap for gross sales is raised to $75,000
no deductions for costs or expenses.

The limitation of "traditional baked good" and the scope widened. Still no alcohol or cannabis.

The items can now be made at home for sale or resale without restriction as to where they are sold.

You can sell pretty much anywhere as long as you display a placard near the items stating:
"This product was produced in a
private residence that is exempt from government
licensing and inspection. This product may contain
allergens."
Before you can sell time or temperature controlled for safety items you must pass an approved food handler's safety training. (I took the food manager's course from ServSafe and I learned so much!)

In addition to name, address, and the required statement: " This product was produced in a private residence that is exempt from government licensing and inspection." You must list the ingredients, in descending order of proportion and known allergens.

You can also SHIP your products!

Still no meat or seafood allowed

If there is an outbreak of foodborne illness stemming from your home baking business, you will be subject to the same investigations, inspections, and liabilities as a retail establishment.
As you can see, BIG changes have taken place. You can read the bill in it's entirety here: Home Food Freedom Act
Why I care about home bakeries in Oklahoma
If you have time, I would like to share a brief bio so you know why I'm writing about this. Also, why I care about my fellow home bakers. (If you are regular here or you already know my story, please scroll on.)
I was a public school art teacher for 15 years. That's what I went to college to be: an artist and a teacher. However, I left teaching in 2012 to stay home with my 4th child and that's when the baking began! At the time, home bakeries were illegal, but that didn't stop people from trying to buy my desserts!
In 2013, home bakeries became legal and I opened Sweet Bytes! Yay! It grew and grew but that really wasn't where my heart was.
Still loving to bake and loving the community of home bakers I had found, I stayed in touch with them and the world of baking. I decided to stop selling baked goods and stick with teaching and sharing what I know! Teaching is what I do best.
Now I share some recipes, make art from my food, teach baking and decorating classes. I share everything I know here!
I never stopped caring about home bakery owners or wanting them to succeed.
Writing about home baking business and stay up to date with current trends and laws around the country to help you in any way I can. When I was baking for hire I barely had time to sleep, let alone read about the latest home bakery and cottage food laws! Now I do, so here I am, keeping you up to date and the facts straight.
Helpful items for Home Bakery Owners
As I was writing this article, I started remembering how anxious I was trying to package my desserts and make sure I was following the law. There was so much to think about.
When I started my home bakery, I bought bakery boxes from JoAnn Fabrics, it's a retail store nearby that has a surprisingly great baking section! I would write with a sharpie on the box and my husband printed me out some logos that I glued on with a glue stick!
Hey… it worked and didn't look as janky as it sounds. After it was apparent this bakery thing was going to work, we looked for a better solution!
Stickers and stamps are both great options. We went with went with Custom Rocker Stamps and got one for the inside of boxes and one for the outside of the box. They aren't cheap, so make sure you get the right size for all of your boxes and do all of the proofreading multiple times.
This is what the Custom Rocker Stamps on Etsy look like along with a stack of my printed 6″ x 6″ X 3″ boxes for Friday Pie Day
With the new allergen requirement, this might be a great solution for you: Bakery Allergen Stamp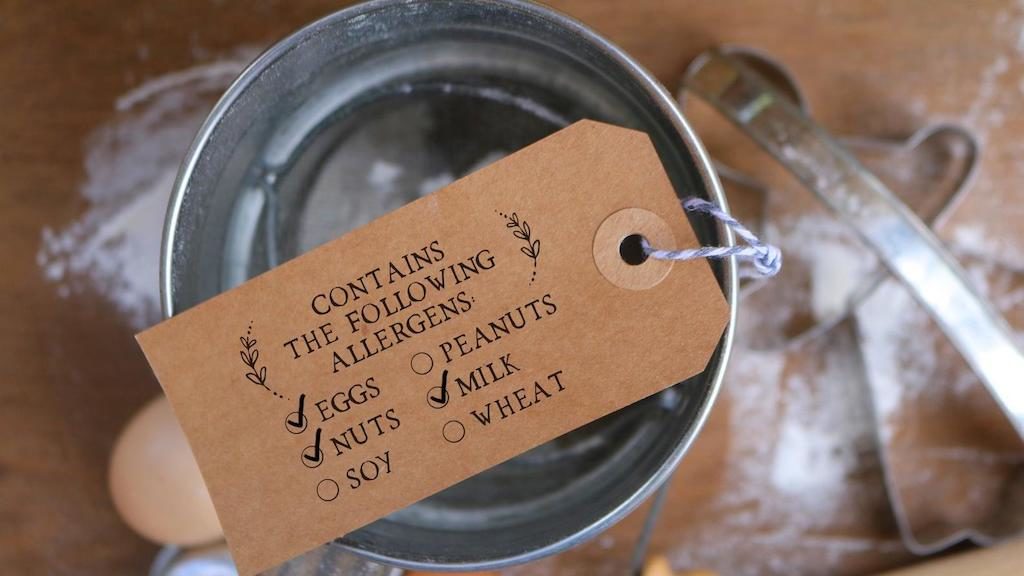 Good Luck on Your Home Bakery Journey!
I hope this helped clarify some of the regulations for Oklahoma home baking businesses. If you still have questions, please don't hesitate to leave a comment or contact me and I will be happy to help.
You might also like some of these articles I've written about bakery business
How to Find the Target Market for a Bakery
How to Make a Professional Bakery Customer Service Policy
Sources I used in writing this article: