I'm so excited to show you how to make a red velvet cake from scratch! The recipe is so easy that you probably won't even believe how good it's going to be. It's a one-bowl recipe with no fancy folding in of egg whites or ingredients mixed in a super strategic way. Really! It's straight forward and straight-up GOOD!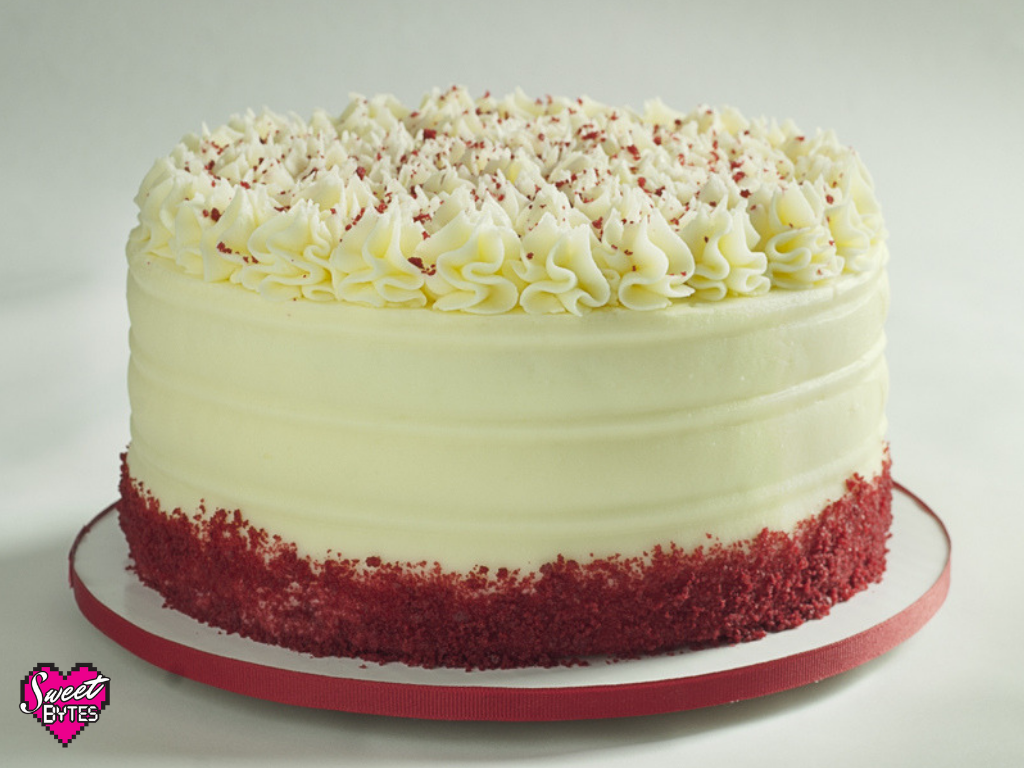 This post contains affiliate links, I earn from qualifying purchases.
Red velvet cake has been on the list of my favorite cakes since I was a young girl. The first time I had it was at a wedding, funny I can't remember whose (because cake makes me forget everything else,) and it was the groom's cake.
For whatever reason, the cake was in the form of a gaudy bleeding armadillo and everyone thought it was hilariously clever! Must have been in the '80s and that cake was a life changer.
Jump to Recipe
Red velvet cake- love it or hate it
I know, I know, there are people who hate it. They think it not "a thing." They, like the people who don't like pie, have never had a good red velvet cake.
The haters of red velvet say it's only good because of the cream cheese frosting and that the cake doesn't even know what flavor it's supposed to be! But if the cake is done right, it's good on its own merits, it IS red velvet flavored. A hint of cocoa and vanilla, a hint of the buttermilk that makes it special, and stick to the fork goodness.
I know how good it should be thanks to that one, memorable bite.
Red velvet cake that tastes like happy
Jump to Recipe
At last, I can say with contentment that my red velvet cake is now as good as my food memory from childhood. Granted, it is not in the form of roadkill, but the taste is as delightful as my first bite of Bleeding Armadillo Cake. Whew. I can rest easy now.
Ready to learn how to make your very own AMAZING and easy red velvet cake? No one will know you didn't work for hours to make this masterpiece.
Tools and equipment needed to make the cake
Mixer
Large mixing bowl
Medium mixing bowl
Liquid measuring cups
Dry measuring cups and spoons
Sifter or sieve
Silicon spatula
Cake Pans
My favorite cake pans are Fat Daddios followed by Parrish Magic Line. I love the Fat Daddios line because they cook in convection ovens as well as conventional ovens. Parrish Magic Line pans are made in the USA and have a very good reputation in the cake world, especially for square pans with sharp corners.
Ingredients in red velvet cake
Cake flour
Sugar
Baking soda
Salt
Cocoa powder
Vegetable oil
Buttermilk
Eggs
Red food coloring
Vanilla
How to make a red velvet cake
Jump to Recipe
This cake is easy peasy! As long as you measure carefully and sift your dry ingredients, it will turn out great!
The first thing to do is mise en place and preheat the oven to 350°F. (If you want the layers to bake extra flat, try 325° and extend the time by 10 minutes or until done.)
The buttermilk and eggs will need time to come to room temperature. You can also cheat a little by placing the eggs in a bowl of warm water and microwaving the buttermilk for a few seconds. Don't make it hot, just room temp.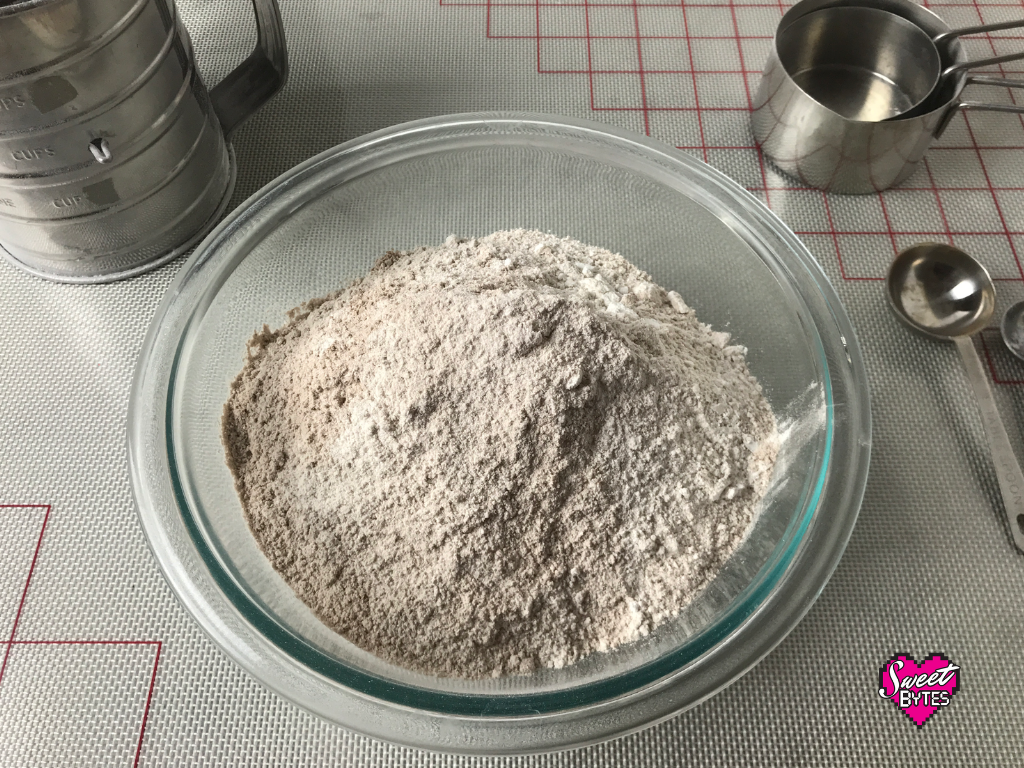 While the eggs and buttermilk are coming to room temp, measure and sift together all of the dry ingredients in the medium mixing bowl. I usually whisk it around after it's in the bowl to make sure it's all well mixed.
Next, mix together the wet ingredients in the large mixing bowl, beginning with the oil and buttermilk. Adding the eggs, vinegar, vanilla, and food coloring in turn. Scrape the bowl as needed to make sure all of the ingredients are being well mixed and none are hiding at the bottom of the bowl.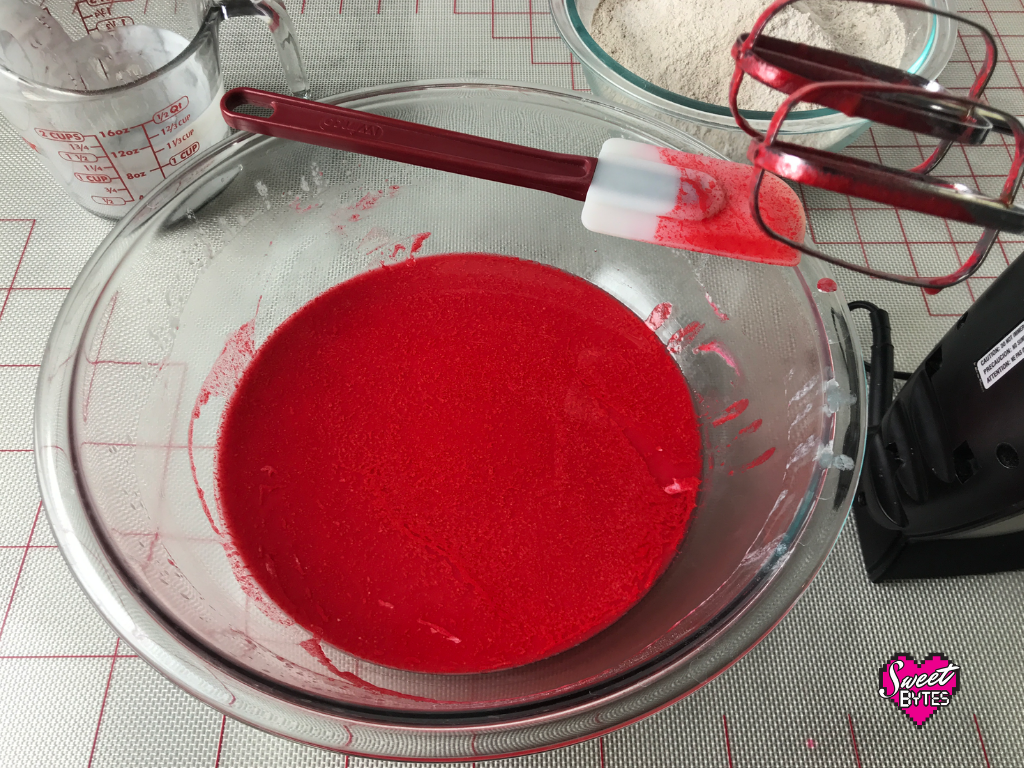 To finish it off, add the dry ingredients in 3 parts to the wet ingredients, mixing on low after each part and scraping the bowl with a spatula. Mix on low only until the batter is smooth and all of the dry ingredients are all incorporated. Pour batter in equal parts into desired pans. (Yes, I really did just use my kitchen scale to make sure each pan was the same. You can just eyeball it if you don't have the same kind of crazy I do.)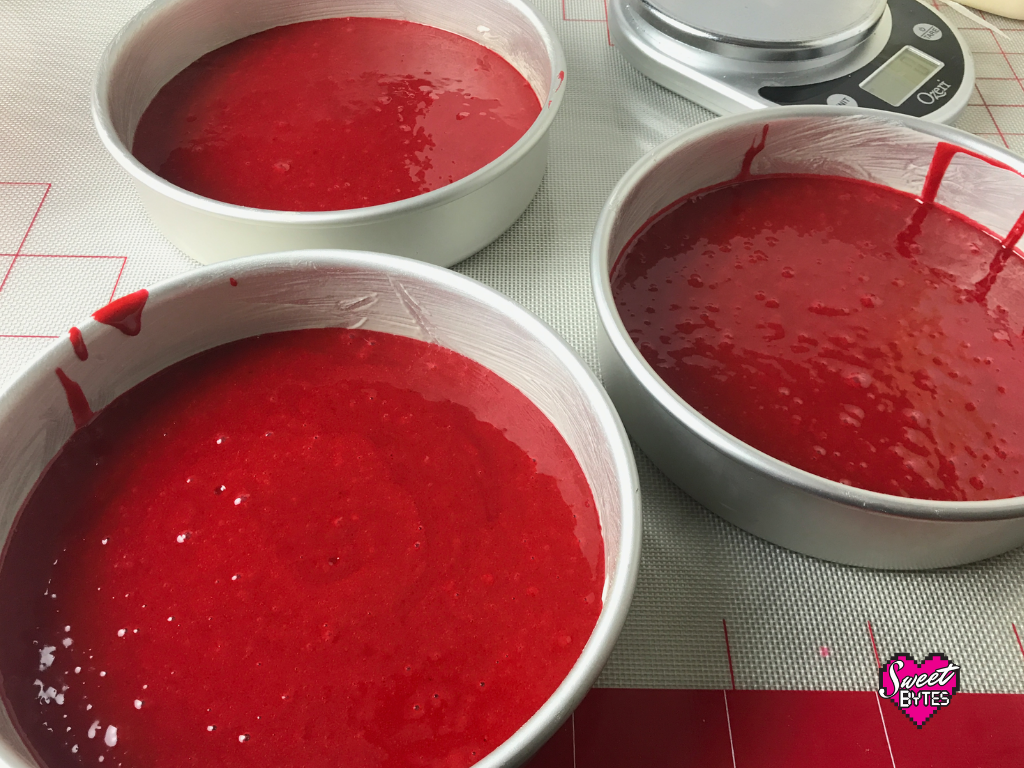 Baking the cake
The best place to bake a cake is in the lower 1/3 of the oven. This way it's not too close to any heating elements. Also, when you are baking the cake, make sure to leave at least 1″ of space between the pans and also between the walls of the oven and the pans.
The cake layers should be done somewhere between 25 minutes and 40 minutes. I know that sounds like a big-time gap, but that's how I bake. I check at the minimum time and reset the oven in 4-minute increments until the cake is done. Overbaking cake causes dry cake. But under baking is just as bad, so learn how to tell when a cake is done.
With this recipe, you can gently press in the center and when it springs back easily, it's done. You could also poke it with a toothpick and see if comes out clean with a few crumbs, that would mean it was done. I prefer touching the top as demonstrated in the following video.
Frosting the red velvet cake
My favorite frosting to pair with red velvet cake is my cream cheese frosting recipe. I think the tanginess of the frosting is absolutely divine with the cake.
However, some people love ermine frosting, which is an old fashioned frosting and the frosting of choice on the original red velvet cakes. Here's a link for that from Serious Eats, ermine frosting.
I love using texture combs to decorate the sides of the cake! I have a Wilton set just like these, but I am not sure Wilton still makes them:
They make it so easy to get smooth sides with eye-catching designs. For the top of the cake, a large piping tip in 1M or 2D works beautifully!
Red velvet cake crumbs make really great decorations too. I like to make an extra layer of cake every now and then and just store the crumbs in the freezer until I need them. After the layer is done baking, I crumble it up on a baking sheet and set it in the oven at 250° for 10 minutes to dry out the cake. Then I let it sit out overnight, usually, after that, the cake crumbs are completely dry. I pulse them a few times in the food processor to make fine crumbs.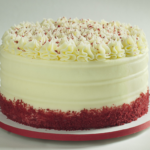 Red Velvet Cake
This is a very easy red velvet cake recipe, but it's perfect in every way. Classic red velvet color and authentic taste! 
Ingredients
2 1/2

cups

sifted cake flour

sift first, measure second

1 1/2

cups

sugar

1

teaspoon

baking soda

1

teaspoon

fine salt

2

Tablespoons

cocoa powder

1 1/2

cups

vegetable oil

1

cup

room temperature buttermilk

2

room temperature large eggs

1

ounce

red liquid food coloring

1

teaspoon

white vinegar

1

teaspoon

pure vanilla extract
Instructions
Pre-heat the oven to 350°F

Grease and prepare cake pans for baking, set aside 

Sift together sifted cake flour, sugar, baking soda, salt, and cocoa powder, set aside.

In a large bowl, mix the vegetable oil and buttermilk until well blended.

Add the eggs to the buttermilk mixture, one at a time, mixing for about 30 seconds after each one. Scrape the bowl, then follow the next step.

Add red food color, vanilla, and vinegar to the buttermilk mixture, mix on low until well blended.

Add dry ingredients to wet ingredients in 3 parts. After each addition, mix only until dry ingredients are incorporated. Scrape the bowl, then mix on low for about 30 more seconds until batter is smooth and all of the ingredients are well blended.

Divide batter equally amongst cake pans, bake for approximately 30 minutes. The cake is done when it springs back from a light touch in the center and is slightly pulled away from the edges of the pan.

Remove cakes from the oven, cool for 10-15 minutes, remove cakes from pans and wrap in plastic wrap for later use or cool to room temp before frosting.
Recipe Notes
This recipe makes a four layer 6" cake, a three layer 8" cake, a two layer 9" cake, or 24 cupcakes. If making cupcakes, reduce baking time to 20 minutes and check for doneness, mine usually take 20 - 22 minutes. 
Frequently asked questions about red velvet cake
What does red velvet cake taste like? It tastes like a sweet cake that has a hint of chocolate. You can't really tell that you are tasting chocolate, but it is a definite undernote.
Do you have to use red food coloring? No, you could leave it out and the recipe would still bake, it would be tan colored. Some people add pink coloring or blue to make other "velvet" cakes. Red works really nicely with the added cocoa powder though.
Is red velvet cake really a chocolate cake? No, it has a lot less chocolate than a chocolate cake. It's closer to a buttermilk cake with a hint of cocoa and food coloring.
Can I freeze the cake for later? Yes! Just bake according to instructions, remove from pans, wrap in plastic and cool completely before placing in the freezer.
Does red velvet cake have to be refrigerated? If you choose cream cheese frosting, it will have to be refrigerated. The cake itself is fine at room temperature, but your frosting or filling may require refrigeration.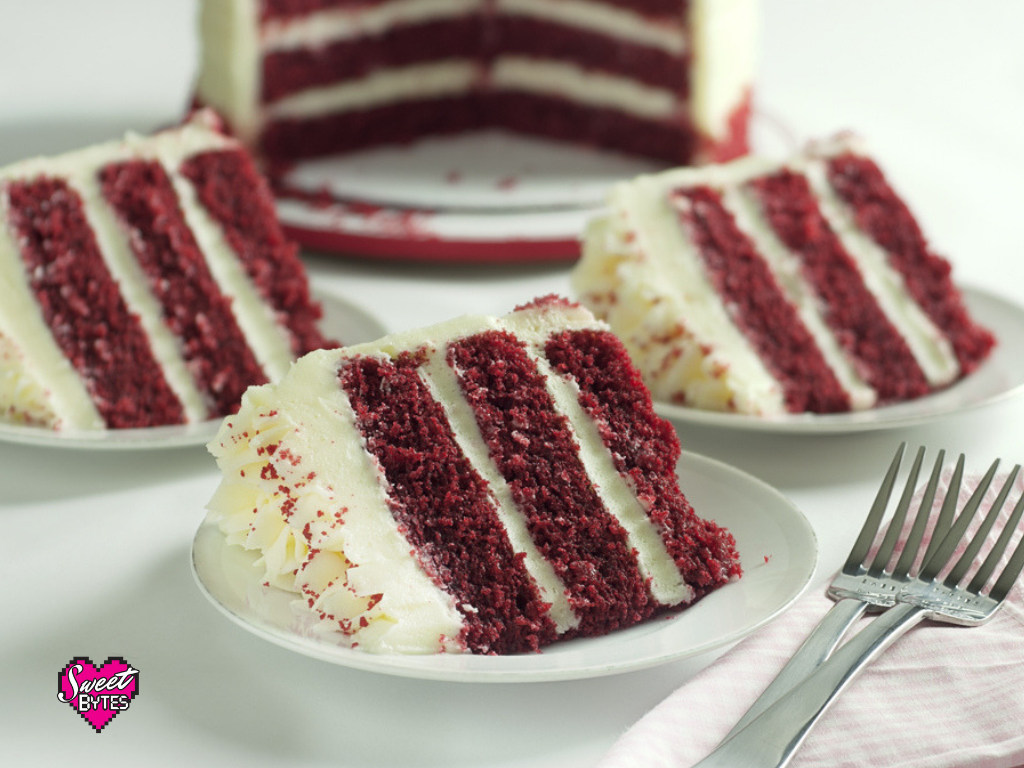 Questions or comments?
I really hope that you'll love this recipe as much as I do! If you have any questions or comments, please leave a comment below or email me, I'd love to hear them! Also, I'd love to have you join my free email list to keep in touch and get updates about all the delicious news!