This Year of the Ox Pie is a dark, sweet cherry pie decorated with a hand-sculpted ox made out of all-butter flaky pie crust!
This post contains affiliate links, I earn from qualifying purchases
Many blessings and goodwill offered to you and yours this Lunar New Year! Lord knows we can all use some blessings this year. 2021 feels like a high-stakes game after what the world endured in 2020!
In the U.S. we get to experience every culture, however, we don't often engage in other culture's celebrations as often as we should. The Lunar New Year feels like something we all need to celebrate right now. We need unity and closeness, we need to remember that we all share this passing of time even though we are socially distancing and lack big parties and gatherings in the name of public safety.
I love the idea of renewal, good luck for the coming spring, and the family unity of this celebration. To celebrate, I felt moved to do what I do best, make a pie!
Nevertheless, I do realize that cherry pie or even pie does not follow the Lunar New Year holiday traditions. It's more of an appreciation pie to acknowledge my appreciation for those who are celebrating traditionally.
My process in making the pie
I posted this pie on Instagram but I wanted to document the whole process here and just spend a little more time on the details of creating the Lunar New Year Pie for the Year of the Ox.
Step 1: Imagery
The first step was finding visual inspiration. I headed to the internet to look for imagery that struck my fancy. Sometimes this can be a bad thing because it may impede original ideas. However, this time I needed to do this to see an ox in the same Lunar New Year vector image style that I used for my Year of the Pig Lunar New Year Pie.
The internet did not let me down. I ended up falling for this guy:
Step 2: Plan of attack
Next, was planning how to turn the beautiful image into a pie crust. There were several different ways to approach it. I could have had a solid crust with cut-outs on top or let the red be the pie filling showing through.
I redrew the vector image that I found online. It could have been printed and cut from the original design, but I like to add my own touches. Being an artist, I love how the act of redrawing the inspirational image changes it. My nose is slightly longer and I feel like my Ox takes on a serious and sort of sad look, reflective of my own emotions during month 11 of the pandemic.
Originally, I had planned for the ox to be attached to a circle of pie crust. It ended up being difficult to get the circle perfect and I thought it was taking away from the ox.
Parchment circles end up being the perfect sketch paper for designing desserts. They are easy to work with and just the right size. Plus, I don't feel bad having them around since I also use them for lining the bottom of cake pans.

Step 3: Weapons of choice for the Lunar New Year pie
My favorite pie crust was an easy choice, found in this article: How to Make Pie Crust From Scratch. I made a batch the day before it was needed so it would have time to rest and have its moisture evenly distributed.
Here are the tools I used:
The Innovative Sugarworks Sugar Shapers helped tremendously with the fine details, imprinted textures, and smoothing out the cut edges. Designed especially for working with sugar, they don't stick to the design and are experts at reaching tiny areas that still need precision.

However, I still rely heaving on my trusty clay tools, fondant tools from my cake decorators kit, and medical-grade scalpels
for a lot of the details. Really, I just grab whatever works and use it. I like to have the whole kit on hand
Step 4: Modeling the pie crust
During the making of the Year of the Ox pie, I had to stop working and refrigerate the pie crust whenever it started getting soft. Keeping the pie dough very chilled helps everything remain easy to cut and workable. When pie crust becomes too warm, the butter starts melting and sticking to everything. Staying chill is a state of mind as well as a physical state when working with pie crust.
Water and a paintbrush were the only "glue" I needed. Everything behaved and stuck the first time.
Step 5: Baking the pie
Red and gold are the most important colors for the Lunar New Year celebration. Cherry pie seemed like a good match for the color and I was hoping the golden brown of the pie crust would translate. However, the dark sweet cherries were so deeply colored that the red was a bit lost. (The flavor, however, was perfection!)
For my bake time, I went with 350°F for the entire process to have a steady heat. I was hoping to get a nice and even browning. I went with egg yolk and a teaspoon of water for my egg wash this time and I was fairly happy with the result of the baked pie.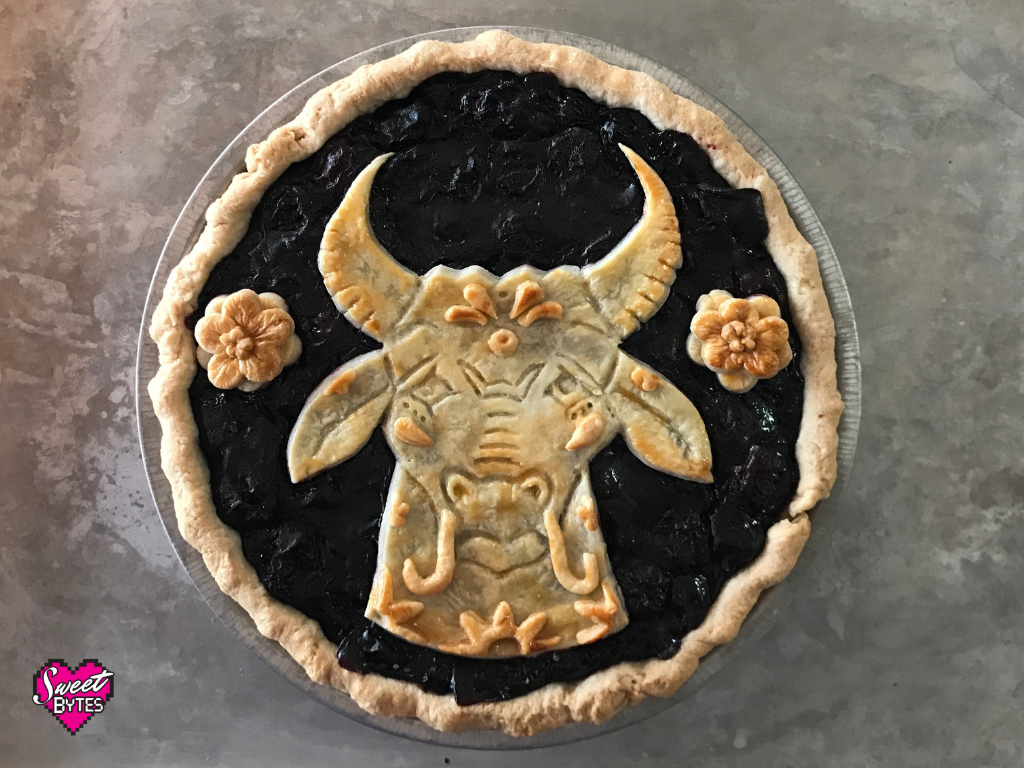 One problem with baking at a lower heat for the entire time is that the edges of the crust didn't puff up or hold their shape like they do when I bake at 425°F for the first 15 minutes.
Questions or comments?
Please leave a comment below and feel free to ask any questions that you have. I hope this Chinese New Year Pie brought you a little joy and inspiration to bake something amazing!