This made from scratch Cherry Chip Cake Recipe with the perfect Pink Cherry Buttercream is as delicious as it is beautiful! It's bursting with sweet cherry flavor thanks to Paradise Candied Cherries and has a lovely, delicate pink coloring from maraschino cherry juice.
This post contains affiliate links, I earn from purchases made through some of the links here.
A From Scratch Version of a Betty Crocker Fan Favorite
This cake is based on the original Betty Crocker box cake mix called Betty Crocker ™ Super Moist Delights™ Cherry Chip Cake Mix.
It has the following ingredients: ENRICHED FLOUR BLEACHED (WHEAT FLOUR, NIACIN, IRON, THIAMIN MONONITRATE, RIBOFLAVIN, FOLIC ACID), SUGAR, CORN SYRUP, LEAVENING (BAKING SODA, SODIUM ALUMINUM PHOSPHATE, MONOCALCIUM PHOSPHATE). CONTAINS 2% OR LESS OF: MODIFIED CORN STARCH, CORN STARCH, PALM OIL, PROPYLENE GLYCOL MONO AND DIESTERS OF FATTY ACIDS, SALT, DISTILLED MONOGLYCERIDES, DICALCIUM PHOSPHATE, CORN CEREAL, SODIUM STEAROYL LACTYLATE, XANTHAN GUM, CELLULOSE GUM, ARTIFICIAL FLAVOR, CITRIC ACID, RED 40 LAKE.
I'm not one to look down on any cake. I am just saying that if I can avoid eating things I am not sure of what they are; I try to. However, we all know it's delicious. That's why I set about trying to remake it! Another plus is – it's PINK!
**Side note- this cake is different from Cherry Cake, which is a rich butter cake, flavored with almond extract and dark sweet cherries that one looks more like a snack cake than this beauty.
Candied Cherries Make it Better
Full disclosure: Paradise Candied Fruit, who have been achieving baking excellence for over 50 years, sent me some free candied fruits to try! This is just one of the amazing recipes I've come up with so far! 
There are a LOT of other Old Fashioned Cherry Chip Cake recipes on the internet, but I made this one better by using candied cherries. Plus, my buttercream is the cha-cha-cha Cherry BOMB!
I am now MORALLY obligated to show you the reference in case you don't know.
Anyway… one of the hardest things to replicate in the box mix are the "cherry chips." Now, if you scroll back up to the ingredients in the box mix, you will see NO cherries. I suspect they are the "corn cereal, artificial flavor, and red 40," but I definitely do not want to spend half of my week trying to find out if I'm right.
The point IS there are NO CHERRIES IN THE CHERRY CHIP CAKE! So, I put some in there. The secret ingredient to capturing the delicious real cherry flavor comes from Paradise Candied Cherries. They are perfect because they are dry and do not add extra moisture OR sink to the bottom of batter in the pan.
A candied cherry is a cherry simmered in sugar water/syrup until the syrup replaces all the natural moisture in the cherry. This results in a very sweet "candied" cherry.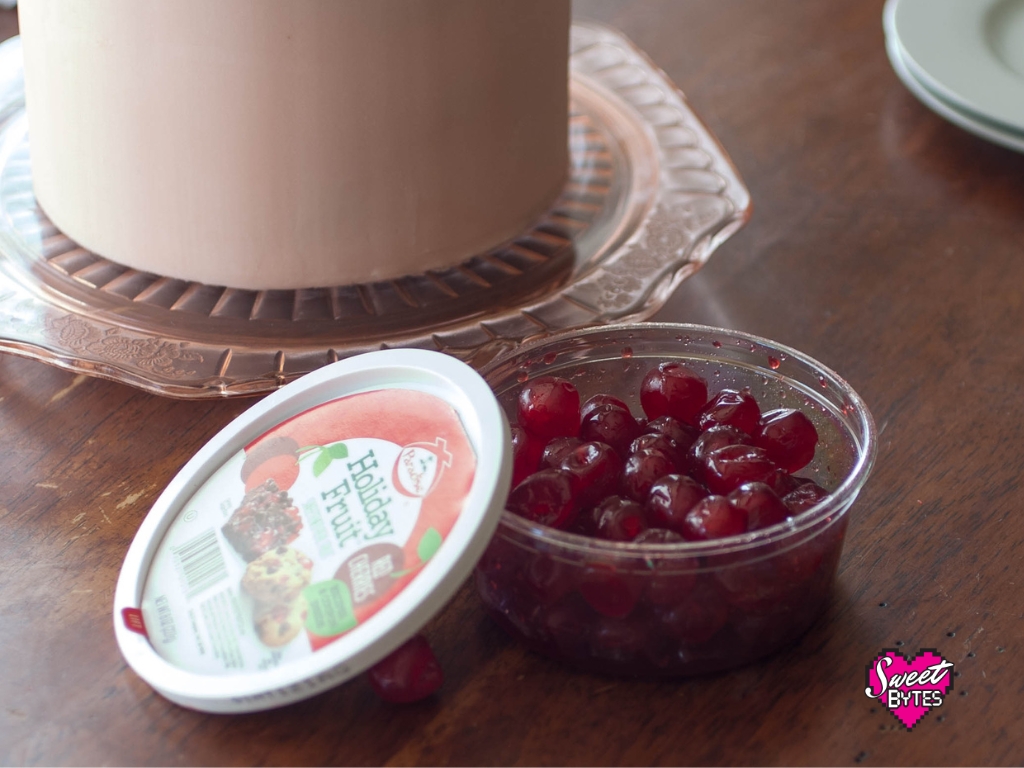 Ingredients you'll need to make the cake and buttercream
Paradise Candied Cherries
Sugar
Powdered Sugar
Butter
Vanilla
Sour Cream
Eggs
Flour
Baking powder
Milk
Maraschino Cherry Juice
My Best Tips for Making the Cake
My first tip is to always make sure that you have all the ingredients you need and get them out on the countertop. Don't assume you have enough just because you see the package in the cabinet! This means read the ingredients list in the recipe.
Next, I want you to make sure you are comfortable making this cake. Do your skills match the recipe? Read through the instructions and make sure you are clear on all the steps. I would say this is a Level 2 Cake Recipe. (Read more here—–> Cake Levels of Difficulty)
Get the ingredients to room temperature before you make the cake. This will make sure all the ingredients incorporate well and the butter doesn't turn into hard clumps.
Don't over mix the batter! After creaming the butter and sugar, go easy on the mixing.
Properly prepare your pans! Don't do all this work and have the cake stick in the pan. (Read about my preferred ways to do this here.)
Finally, if you have a electric food processor or chopper, it will make chopping the cherries SO much easier!
Save 10 -12 perfect looking candied cherries for the top of the cake.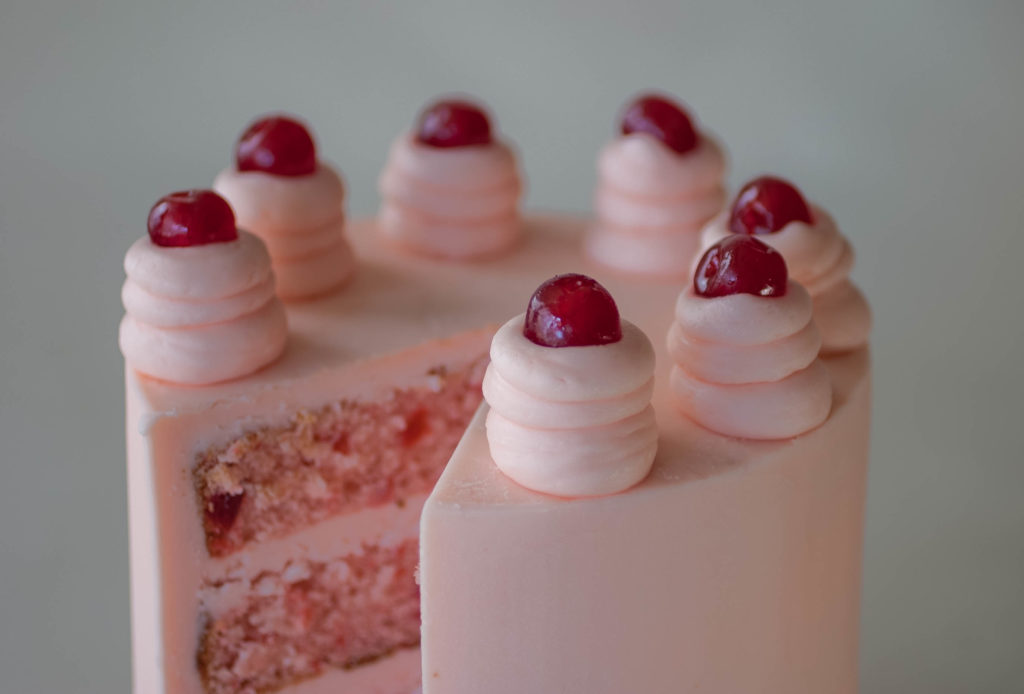 Tips for Decorating the Cherry Chip cake
It's easiest to make the frosting right before you use it, but if you make it ahead of time, stir it again with a silicone spatula to make it nice and spreadable again. Sometimes buttercream gets "spongy" and has a lot of air pockets if it's sits around for a while.
If you are making a layer cake, get some cake rounds that are the same size as your pan. This will make it so easy to move the cake around in between decorating stages. A cake round is basically a cardboard circle that supports the cake layer while you decorate it.
After you stack the layers, do a thin crumb coat and CHILL! That means pop the whole cake into the refrigerator for 30 minutes or more, cover the frosting bowl and take a break. This will make the whole thing easier to finish.
To get the tall and smooth sides, you'll have to have a cake scraper/ smoother. A spatula or knife just won't make the perfectly smooth sides.
Lastly, I used a Wilton piping tip 1A to make the decorations on top of the cake.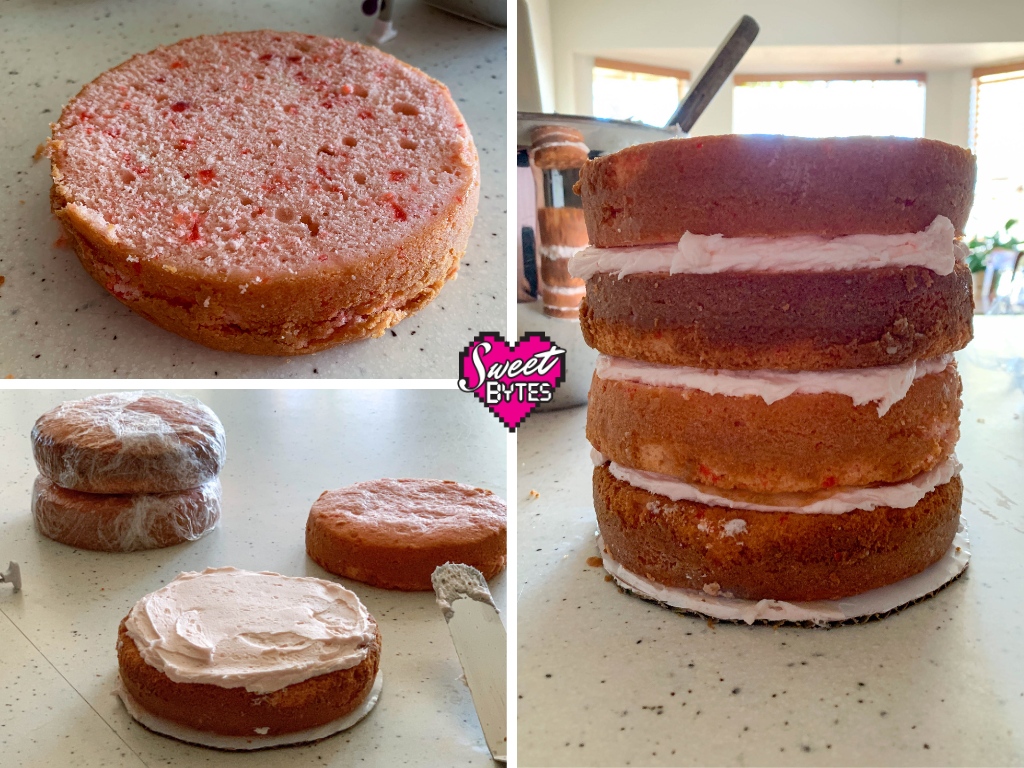 Cherry Chip Cake from Scratch
This made from scratch Cherry Chip Cake Recipe with the perfect Pink Cherry Buttercream is as delicious at it is beautiful! It's bursting with sweet cherry flavor thanks to Paradise Candied Cherries and has a lovely, delicate pink coloring from maraschino cherry juice. Makes four 6" round layers, three 8", or two 9".
Total Time
1
hour
40
minutes
Ingredients
Cake
1 ½

cups

sugar

¾

cup

salted butter, softened

½

teaspoon

vanilla extract

¾

cup

sour cream, room temperature

4

egg whites, room temperature

1

egg

2 ½

cups

sifted cake flour

4

teaspoons

baking powder

¼

cup

whole milk, room temperature

½

cup

Maraschino cherry juice, room temperature

¾

cup

candied cherries, finely chopped

save 10- 12 whole for decorating
Cherry Buttercream
1 ½

cup

unsalted butter

3 sticks

½

cup

salted butter

1 stick

7

cups

sifted powdered sugar

1

teaspoon

vanilla extract

4 to 6

Tablespoons

Maraschino cherry juice

start with 4 add more as needed for color and consistency.

10 to 12

whole candied cherries for top of cake
Instructions
Make Cake
Preheat oven to 350°F (325°F convect oven)

Grease pans and line bottom with parchment paper to prevent sticking

In a large mixing bowl or stand mixer, beat the butter and sugar on medium high until light in color and fluffy. At least 5 minutes. While this is mixing, prepare other ingredients.

In a small bowl, blend egg whites and whole egg with a fork, set aside

Turn mixer to low speed, add vanilla and sour cream. Continue mixing until combined. Scrape bowl as needed.

Add half of egg mixture, mixing on medium until well combined, add other half of egg mixture and mix on medium 30 seconds or until combined. Scrape Bowl.

In a medium bowl, whisk together cake flour and baking powder. Add half of the flour mixture to the cake batter and mix on low until just combined.

Add Maraschino cherry juice and milk to the batter, mix on low until just combined. Turn off the mixer and give the bowl a good scrape, be sure to get the bottom .

Add the other half of the flour mixture and mix on medium speed until just combined.

Remove bowl from stand mixer, fold in chopped candied cherries until they are evenly dispersed.

Divide batter evenly into the prepared cake pans, bake for 25 minutes, or until the top bounces back with when you gently press the top with your finger.

Allow cakes to cool for 10 minutes before removing them from the pans and cooling completely before decorating.
Make Frosting
In bowl of stand mixer, or in large bowl, mix butter with paddle beater on high for 5-8 minutes until light and fluffy

Add vanilla and mix until incorporated, 20-30 seconds.

Add 1/2 of the sifted powdered sugar, mix on low, gradually raising to high until incorporated, 30 seconds.

Add 4 tablespoons of cherry juice, mix on low until incorporated, 20-30 seconds.

Add the rest of the powdered sugar, mix on low, gradually turn it up to high and beat for 30 -45 seconds. Add more cherry juice one tablespoon at a time until the frosting in spreadable consistency. It should stand up on the beater with only a gentle bend in the peak.

Keep icing covered, store at room temperature in an airtight container until ready to decorate the cake. This is a crusting buttercream.
Recipe Notes
This cake is best on day 2! The candied cherries help keep the cake moist and the cherry flavor really develops over night. After frosting the cake, you can leave it covered at room temperature for up to 3 days. Cut into slices, wrap and freeze the leftovers for cake craving emergencies. Adapted from Life, Love, and Sugar Cherry Chocolate Chip Cake
Questions?
I tried to cover everything, but if you have questions about making this amazing Cherry Chip Cake, please send me an email and I'll do my best to find you an answer!
I'd really love to stay in touch! Sign up for the newsletter and I'll send you all the best news and updates from Sweet Bytes on Wednesdays, but only when I have good news to share!