Today I'm sharing my very favorite easy graham cracker crust for pie recipe. I have trusted this recipe for over 20 years for all of my family baking. In fact, I didn't even have to change a thing about it when I started selling pies professionally.
I get commissions for purchases made through links in this post.
It's true, this is the best graham cracker crust recipe I've found! My family and customers have always raved about it. If you've been buying store bought graham cracker pie crusts you are going to be amazed at how easy this is to make and how delicious a freshly made graham cracker crust really is!
So there you have it, let's dive in! You'll be baking made from scratch graham cracker crust in no time!
Jump to Recipe
What makes this the best graham cracker crust recipe for pie?
This type of pie crust is called a crumb crust. A crumb crust is simply made from any type of dry crumbs held together with butter and typically a little sugar. Getting the crumb mixture just right is where recipes vary.
This recipe has just the right amount of sugar and butter.
The right ratio of ingredients makes it easy to press the graham cracker crust into the pie plate. Very similar to wet sand when making a sand castle.
A great crumb crust recipe will also bake up without the butter separating and leaking everywhere. This problem happens with graham cracker crust recipes that have way too much butter added.
It's also the perfect amount of crumb crust for an 8″ -10″ pie.
Graham cracker crust ingredients:
Graham Crackers
Sugar
Butter
That's it.
It's amazing, but there are only 3 little ingredients in the crust.
OK, OK, IF you consider the graham crackers one of the ingredients. I know the graham crackers have many more ingredients, but let's simplify here.
How to make graham cracker crust
Making a graham cracker crust for pie is super easy!
First, you have to take your regular graham crackers and turn them into crumbs.
You can do this in a food processor or by hand. You can also buy pre-made graham cracker crumbs at the store.
In our stores in OKC, they sell the graham cracker crumbs near the pre-made graham cracker crusts.
I like to do it by hand in a gallon sized zip bag and use my Classic Wood Rolling Pin
. It's like crumb therapy (hmmm… should I trademark that?)
Put all the graham crackers in the bag. Then, roll over them and crush the crackers with your rolling pin until they are as fine as you'd like. Next, seal up the zip bag until you are ready to use them! Easy as pie.
These crumbs can be as fine or chunky as you'd like. I like 'em chunky. Yeah baby, a little extra chunk never hurt anybody.
I will say, it's easier to press less chunky crumbs into the plate.
Therefore, if you want it to be perfectly shaped and not so rustic looking, crush your crumbs to a finer size.
I just do a whole box of graham crackers at a time. By keeping the crumbs in the freezer in airtight storage, they will stay fresh.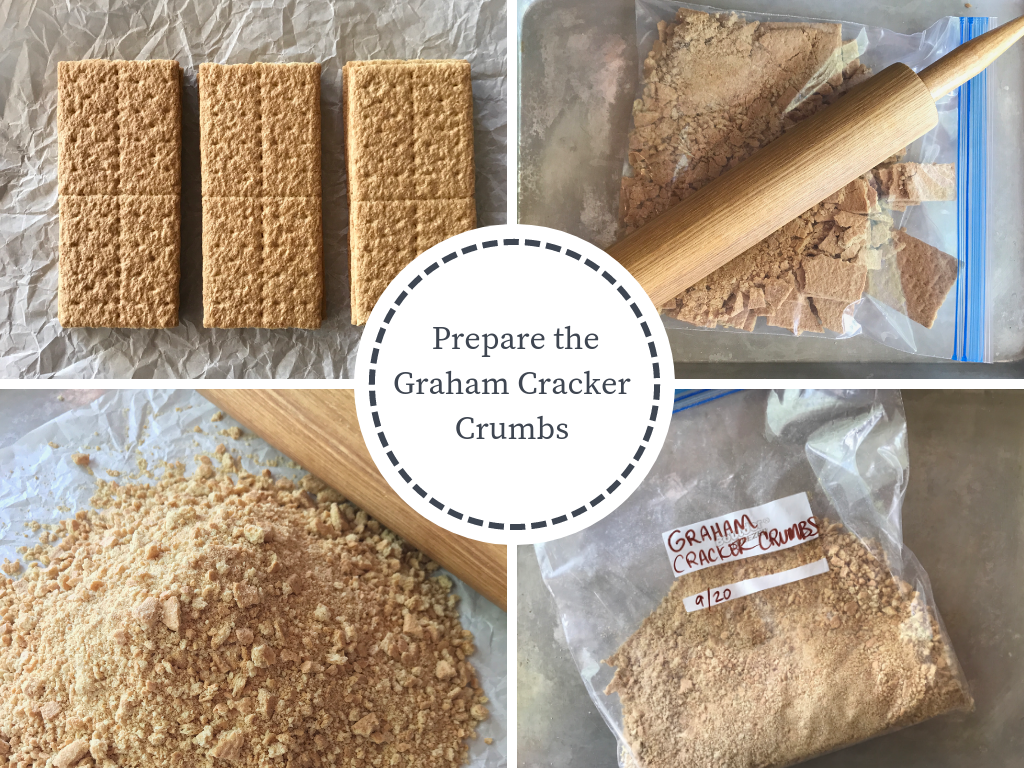 Next, lay out all of your ingredients and tools
Mise en place. In less fancy sounding words, get everything you need for your recipe prepared to use. Including a clean work area.
By doing this, you can make sure you have enough of every ingredient and you have all the right utensils and pans clean and ready. No surprises when you get into the baking groove.
Then, prepare the graham cracker pie crust
Now that you are ready, all there is to it is to complete the recipe and have the most delicious graham cracker crust with your amazing pie!
It's such an easy recipe!
Melt your butter in a separate bowl, mix your crumbs and sugar together, pour the butter over the crumb mixture, and stir everything together until it resembles wet sand.
If the graham cracker crumbs seem very dry, be sure you've stirred them well. Mash out all the clumps with the fork to make sure there is no butter hiding in a graham cracker clump.
If after all that it still seems dry, you might need to add another tablespoon of melted butter. Only do this if the crumbs are truly dry, this is not supposed to be an overly wet mixture.
By dry, I mean you can't press them over to the side of the bowl and they hold the position. Crumbs that are too dry will slide back to the bottom.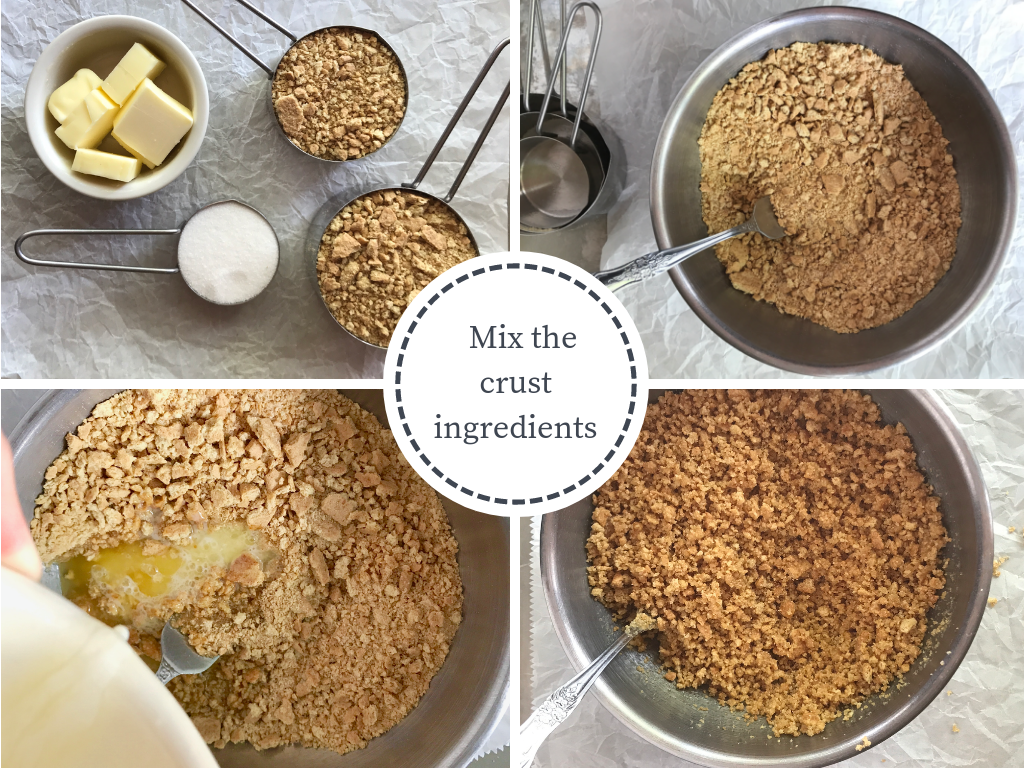 After the crumb mixture is just right, press it into the pie plate.
There is a bit of art to pressing the moist graham cracker crumbs into the Pie Pan
. The more times you do it, the easier it will get. One great thing about it is that you can try, try again.
Graham cracker pie crust is very forgiving. If you mess up, just push all the crumbs back into a pile in the center of the pie plate and begin again.
When I mess up, it's usually because I knock one of the sides down by being in a hurry. It's super easy to just smoosh it back into place though.
To begin, I like to dump all of the crumbs into the middle of pie plate. Then I use my favorite flat-bottomed glass shot glass to start tamping the crust.
You can also use a Pastry Tamper
, a flat-bottomed measuring cup, or any other smooth and flat thing that you like. Some people even use their hands!
I like the extra force of using a tamper. You should experiment until you find your thing.
I go around tamping the crumbs in concentric circles from the center outward. The excess crumbs get pushed out to the sides of the pie pan and I use those to form the edges. If I end up with too much when I get to the edges, I use my finger to brush off the extra crumbs.
Working on top of a baking sheet and/ or parchment paper will give all of those extra crumbs a place to fall and keep you from cleaning up a crumbly mess!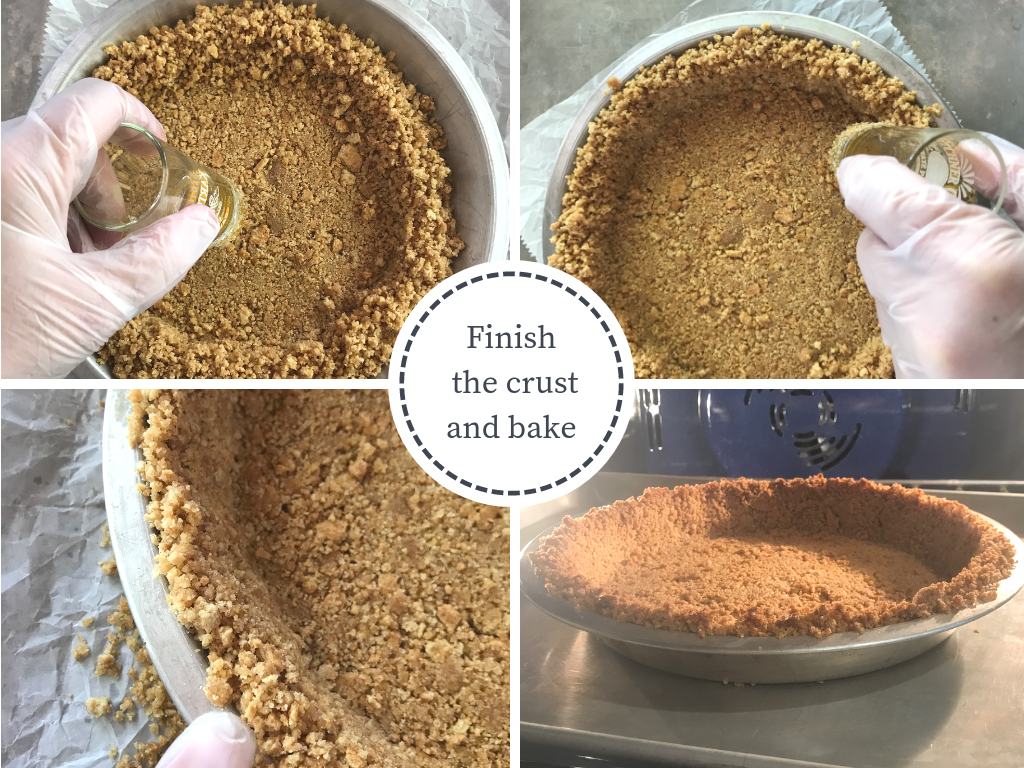 Bake the graham cracker crust
I always bake my graham cracker crusts. It helps to meld the sugar, butter, graham mixture into a new thing AKA the crumb crust. Baking makes the pie crust resilient against sogginess and gives it a little crunch.
No, you don't have to bake graham cracker crust. You can chill it in the refrigerator until it's firm and it will still be a good crust. It takes a while longer to chill the crust than it does to bake it.
I've also seen more people complain about their crust getting stuck in the pan when it's not baked. It's just a matter of preference.
Try it both ways and see which you prefer!
Here's the graham cracker crust recipe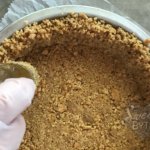 Graham Cracker Crust for Pie Recipe
Graham cracker crust for pie is easy to make and pairs deliciously with all types of sweet pie. Once you learn to make it yourself you can say goodbye to store-bought crust forever!
Ingredients
Equipment needed
1

9″

Pie plate

1

Baking sheet

1

small

Microwave safe bowl

1

medium

Mixing bowl

1

Fork

1

flat-bottomed

Cup, glass or pastry tamper
Ingredients
1 1/2

Cup

Graham Cracker Crumbs

(127.5 grams)

1/4

Cup

Sugar

(50 grams)

1/3

Cup

Butter

(76 grams)
Instructions
Preheat oven to 375°F. Arrange the rack to the center of the oven.
Make graham cracker crumb mixture.
Mix graham cracker crumbs and sugar together in a medium sized mixing bowl.

Melt butter for around 30 seconds in a microwave-safe container. Listen carefully for sizzling sound. Butter will spatter and pop when it starts melting, cover loosely to keep a clean microwave.

Pour melted butter over graham cracker mixture. Stir and mash together with a fork until all of the butter is incorporated and the crumbs are moist, like wet sand. If there are any big clumps, smash them out.
Form graham cracker crust.
Pour moistened crumb mixture into center of the pie plate. Use flat-bottomed device to start compacting crumbs and forming them to the pie plate.

Work from the center of the pie plate towards the edges of the plate. Press the crumb mixture to the sides of the pan, allowing any excess to fall over the side. The goal is to get an even layer of crumbs with no thick or thin spots.

Check the crust for holes and clean up around the rim of the pie plate before baking.

Bake at 375°F for 8-10 minutes until crust is lightly browned around the edges. Allow cooling before filling.
Recipe Notes
If the crust bubbles up or slumps down the sides of pie plate during baking, press the crumbs gently back into place before the crust cools. 
Frequently asked questions about Graham Cracker Crust:
Can I double this recipe?
Yes. You can multiply this recipe as many times as you need. There is nothing in it to cause baking trouble.
How to keep graham cracker crust from sticking to pan?
If you bake the crust, I do not think you will have any trouble. If you want insurance, you can always butter the pie plate before you press the crumbs into the pan. A little spray of cooking spray will be fine to prevent sticking too.
Can I freeze graham cracker crust?
Yes! You can freeze the leftover graham cracker crust in an airtight container for up to 3 months. Also, you can also freeze a whole graham cracker crust.
Can I make graham cracker crust without sugar? Yes. You can also lower the amount of sugar or use a suitable sugar replacement that works well with baking. Graham crackers are already slightly sweetened, so it really depends on how sweet you like your crust. Don't be afraid to experiment until you find your perfect ratio of sweetness.
How many graham crackers in a cup? That's hard to say because each brand of graham crackers varies a little in thickness and density. Usually, the answer is somewhere between 10 – 12 graham cracker sheets. More precisely, 85 grams or 3 ounces of graham crackers also equal a cup.
Are there any variations to graham cracker crust recipe?
Yes! Great question. The sky is the limit. In fact, you can add coconut, nuts, cinnamon or other spices, you can use brown sugar instead of white. One of my favorite combos is added pecans and cinnamon. Just go easy on things that melt because then you are adding more liquid to the crust. If you want to pour chocolate over the baked crust though, DO IT! Here's a secret: as long as it holds together like wet sand and will mold into the pan, it will work as a crumb crust. Don't be afraid to try.
What are some pies with graham cracker crust? Key lime pie, lemon icebox pie, s'mores pie, and cheesecake pies are all traditionally made with graham cracker crust. However, you can put any type of sweet pie filling into a graham cracker pie crust and it will be delicious!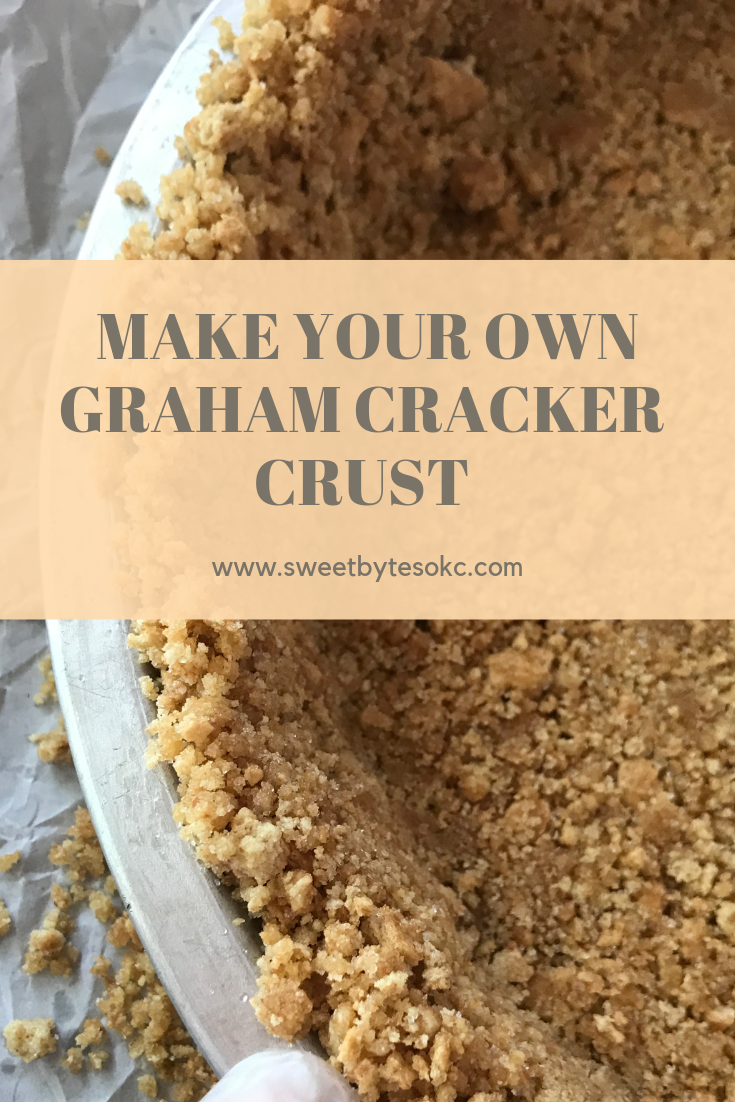 Questions?
What's your favorite pie to pair with graham cracker crust? Please comment on or drop me a line if you have questions.
Don't forget to join our email newsletter to stay in touch and get all the delicious news!