This post is all about finding gifts for bakers who love unique or handmade items. Sometimes it's very hard to find the perfect gift for those we care about, but we never quit trying, do we?
As a baker, I am always happy to get some new bakeware or fun baking tools. Plus, I could never have enough t-shirts and aprons! So, for this gift list, I've put together a list of gifts for bakers from Etsy to help you find great gifts for the bakers in your life. This is also a chance to support small businesses and independent shop owners who sell their items on Etsy.
The links in this post contain affiliate links and I will receive a small commission if you make a purchase after clicking on my link.
"If it's handcrafted, vintage, custom or unique, it's on Etsy."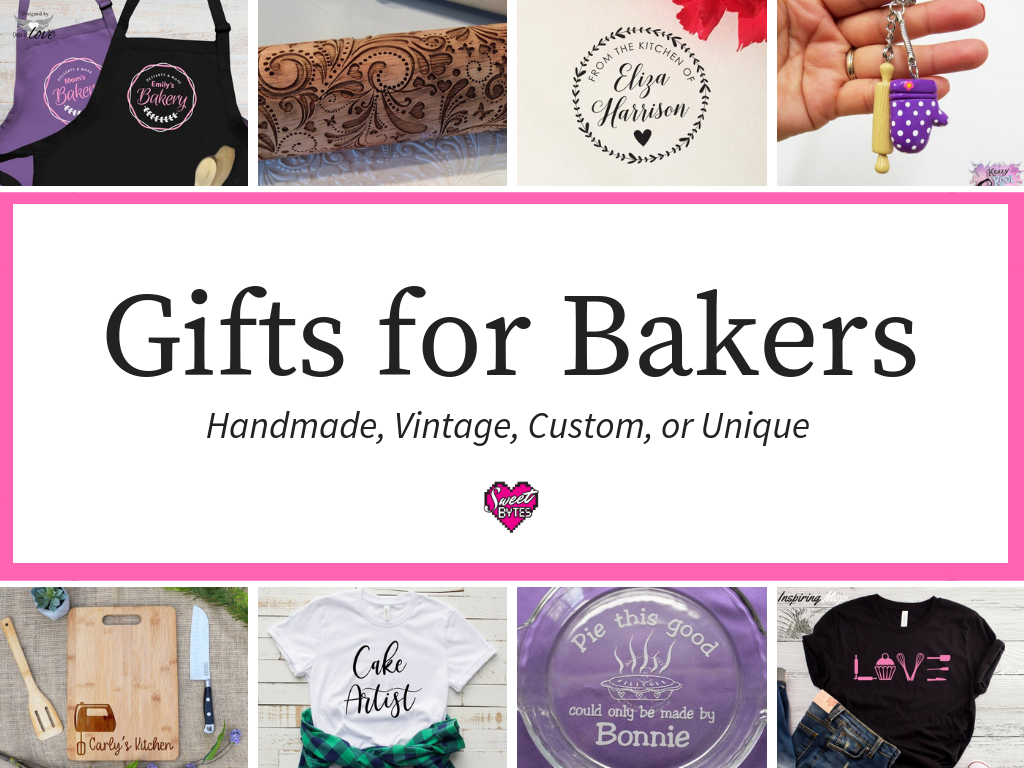 Unique baking tools
New tools are always a good gift for a baker. Especially if the tool can really help your them out around the kitchen. Moreover, they will be sure to think of you fondly when they use their awesome gift! Here are a few of my picks:
Bakeware from Etsy
Bakers gonna bake. They need something to bake in! Etsy has a HUGE assortment of vintage and customizable bakeware for all types of bakers, from bread bakers to cake makers. Here are some of my favorites:
Hand stamped pie pan from Designs by Kace: Designs by Kace is owned by Kace Pye from Oklahoma City, OK. She makes the cutest full sized, mini pie, and pizza pie pans and can even customize your items.
Engraved pie plate from Hummingbird Hill: A personalized, customized engraved pie plate is a one of kind gift that will last a lifetime. Hummingbird Hill makes custom engraved candleholders, bakeware, and glassware in Scappoose, Oregon.
Personalized retro patterned cake pan from Snappy's Boutique: These 13″ x 9″ pans would be great for a serving dish or a sheet cake pan. Snappy's Boutique specializes in personalized monogrammed gifts. Dina C. in Chicago, Illinois is the owner.
Wearable gifts for bakers on Etsy
A baker likes to look good! Whether working in the kitchen sporting an adorable apron or headed to the grocery store… again. Your baker will look adorable with one of these gifts they can wear.
Baker's accessories or jewelry
If you still haven't found the perfect present in all the gifts for bakers listed above, maybe this list will have what you need. A baker has an never ending use for cute things that help them share their baked goods and display their love of baking to the world. Maybe one of these will be the one!
Handmade keychain or jewelry from Krazy Kool Cakes & Design: These are adorable polymer clay, handmade items by internationally known and loved cake artists. Laura E. Varela- Wong and her husband, Arnie Wong work together in making cakes, items for their Etsy shop and share tutorials on their YouTube channel.
Baker necklace from LeBua Jewelry: LeBua Jewelry is owned by Nan Bennett in Gowan, Michigan. She has a huge variety of charms and styles available.
Custom stamp from Hello Love Co. Press: If your baker loves to share baked goods, a custom stamp will be a wonderful gift. Hand stamped boxes and cards can accompany all of their yummy treats. Kerry in Iowa City, Iowas owns Hello Love Co. Press.
Still searching
If you still haven't found the perfect gift, have a look through Etsy's gift guides and see if you find something you love. Still, there is always an Etsy gift card. Etsy has over 25 MILLION items listed, there are bound to be some great gifts for bakers in there that I haven't even dreamt of yet.
If you are going to search on your own, here are some queries that I've found useful additions to my Etsy searches: personalized, custom, engraved, hand stamped, monogrammed, vintage.
The more specific you can get with your search, the better your chance of targeting gifts that fit your needs. Typing in cookie cutter will yield 75,451 results on Etsy, yet, custom cookie cutter takes it down to 6,617. Whereas, custom Star Wars cookie cutter only has 48.
Shop small
Shopping small business is a way to double your gift giving, by helping a business owner support themselves and their employees.
Remembering to spend money with small businesses makes a huge difference in the lives of the business owners, the local economies, and to our overall urban landscapes. I love local shops that have that unique personality and local flavor that can't be found anywhere else on Earth.
Some of the shops on Etsy, like Free Spirited Momma and Designs by Kace, are very small shops where the items you buy will directly support the maker. Other shops I've listed have a small group of dedicated employees. Your purchase will make a huge difference in their lives and businesses.
It's a good feeling to spend money when you know it's doing good!